Student's Call for National Action Prompts Global Response
A local student at Fairview High School has drawn national headlines this afternoon. Tyrone Benson, a Junior at the school, drew acclaim for his impassioned Op-Ed in the Opinion Section of his school newspaper, The Royal Banner. The article featured a resounding call for action against the current Trump administration.
In an interview with The Denver Post, Benson addressed his reasons for writing the article.
"I felt as though the issue transcends partisan boundaries. While Donald Trump may be a Republican president, his ideals and values are not suited for any party. I mean, come on."
His article, titled "An appeal for common sense in an era of alternative facts" was first nationally publicized by the President's @realDonaldTrump twitter account. The account called Benson and the school paper an "insult to the country" and "showed why the country needs state controlled media."
In addition to misspelling the words "insult" and "media" as "issiuts" and "midiea"(both later corrected in an edit to the tweet), the President published the link of the article to his Twitter bio by accident. This incident has been said to give the student news website, fhsroyalbanner.com, an almost 600% increase in web traffic.
Many journalists and several lawmakers from both sides of the isle have offered their own support for the Banner. Mitch McConnell and Nancy Pelosi, the Majority leaders for the Senate and House of Representatives, respectfully, released a joint statement advocating a clear need for a strong press corp.
The statement said that journalism remains vital for the "institution of democracy." However, it is not yet known if the article was meant to be released publicly, as both leaders spent 4 hours in a heated televised hissy-fight after signing it together.
Benson's op-ed has also drawn attention from several international leaders, Crown Prince of Saudi Arabia Mohammed Bin Salman called the article "a bit strange" and warned the young journalist not to "visit any Saudi Arabian embassies for the next 15 or so years."
While being publicly insulted by the POTUS could be seen as a setback by some students, Benson remains positive. As he said, "I've already been offered an endorsement deal by Nike."
About the Writer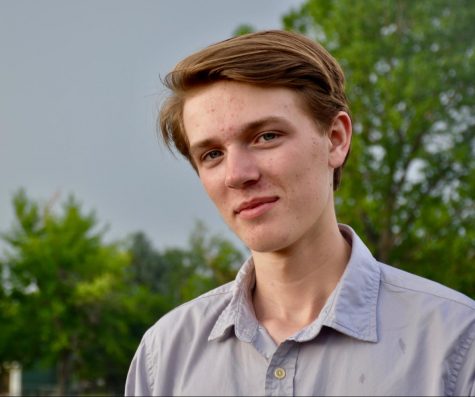 Henry Larson, Co Editor-in-Chief
Henry loves telling stories. Mainly, that means he produces podcasts, which you can check out here. When he isn't doing something related to journalism,...