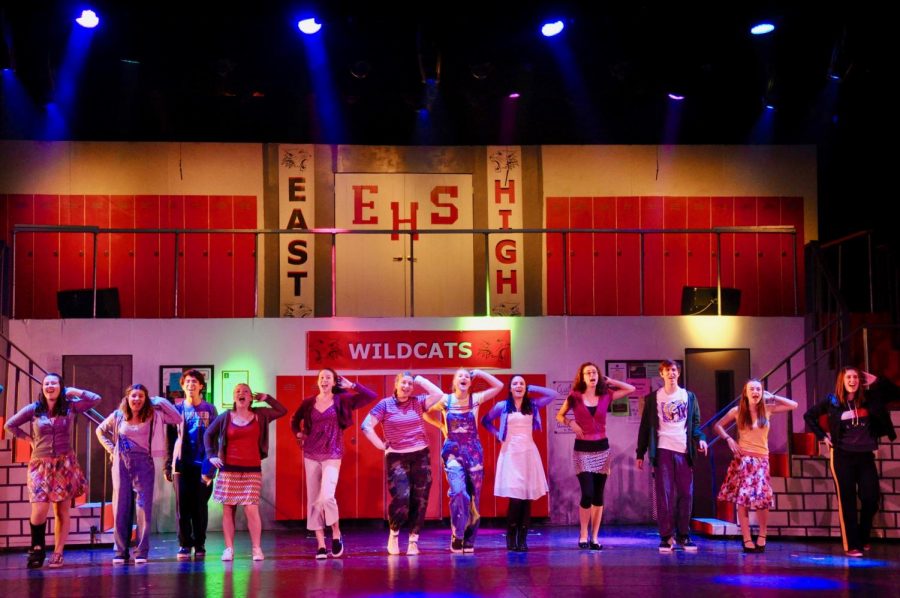 Henry Larson
I recently had the pleasure of seeing a childhood favorite and Disney smash hit movie musical, "High School Musical," come to life on stage. It was beautifully performed by a plethora of talented high schoolers. 
On New Year's Eve, Troy Bolton (Quinn Hirshland), captain of his high school basketball team and small-town star athlete meets Gabriella Montez (Michelle Lee), a nerdy yet beautiful girl at a party. When Troy returns to high school in New Mexico after winter break, he discovers Gabriella is newly enrolled at East High. As students arrive back to school and cliques reunite, Troy and Gabriella audition for the upcoming school musical. While Sharpay Evans (Mia Parnaby) schemes to squash Troy and Gabriella's chances, they work to open doors for their classmate's talents to shine, despite the norm to "stick to the status quo."
I have such an appreciation for the crew who produced all of the technical aspects. Not only the actors, but the crew deserves the highest commendation. I could tell Janice Vlachos (producer) and Tracy Warren (director) put the musical together with such dedication. Though I found Troy and Gabriella's first encounter while singing "Start of Something New" not as inspiring as Disney's original, as it was a major scene for me in the movie, scene eight's "Start of Something New" made up for it. The sweet and romantic singing and acting was a cherry on top. 
Andrew Cassel's choreography was a perfect balance of slow and sweet, and uplifting and playful. The band and tech crew brought the musical to life. Not only was the set an accurate portrayal of the East High from Disney's "High School Musical," but it was clearly made with love and hard work of the props, wardrobe and building crew.
Aside from the beautiful set, the musical had a talented ensemble of actors. Though each actor is worth noting, a couple of people stood out to me. Drew Kendall never failed to make the audience laugh with his role as Jack Scott. Kaden Du, playing Zeke Baylor, also couldn't help but draw attention with his witty lines. Molly Dever's (Martha) voice stood out, a resonant lilt in the crowd of singers. Kendall Baldwin, as Kelsi Neilson, wowed the audience with her gifted piano playing while Darrien Wilcox (Chad Danforth) and Paige Weimer's (Taylor McKessie) humorous banter caused the audience to chuckle. Ethan Leland's singing never left me wanting more, his silky voice entrancing everyone listening. Mia Parnaby could not have been a better fit for the role of Sharpay Evans, a role only a person so fabulous as Sharpay herself could play. Her overly flirtatious and bouncy energy brought life and laughter to the stage. 
Finally, Quinn Hirshland and Michelle Lee made a perfect Troy and Gabriella. While recreating many of Disney's original scenes, they found a way to make their parts their own personal roles. Michelle Lee amazed me with her shy and book-loving Gabriella. Not only was Michelle a unique and fabulous Gabriella, but her voice was a silvery lull above the voices, winning instant admiration from the audience. Quinn Hirshland sang as well as Disney's Troy Bolton and immediately captured everyone's attention with his smooth and entrancing vocals while also charming all with his cheesy romantic lines.
I encourage you to come to support the theatre department's lively and high energy production of "High School Musical!" The performance earned a five-star rating in my book. I guarantee the enthralling performance will charm you with its acting and singing, a perfect way to end your day. The animated plot and talented actors will not leave you wanting more.