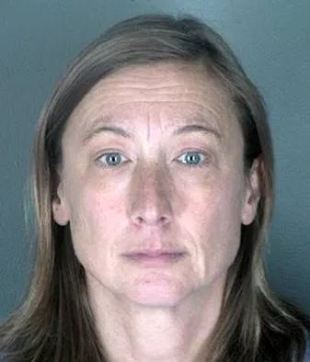 Boulder County Sheriff's Office
On the evening of Tuesday, December 3rd, Principal Stensrud held an "Evening with the Principal" meeting in the College and Career Center. The majority of the evening was spent discussing the recent arrest of a Fairview student, Aidan Atkinson, and the school's response.  
Many parents had questions about Marilyn Lori, a former mental health worker who was embedded at Fairview in 2018. Stensrud was quick to distance the school from Lori, who was an employee of Mental Health Workers.
He said that, "some time after the [2018] dance, one of the alleged victims contacted our school social worker, a mental health worker, who is contracted through Boulder Mental Health. [She was] not a BVSD employee…The mental health worker did not [report the incident]."
Mental Health Workers contracts with the district, and provides resources to schools across the state.
"The mental health worker did not [report the incident]."
Stensrud also referenced Lori's departure at the end of the last school year, but said her absence was because of a potential career change.
"She had resigned in December. Not because of this, she just wanted a different career," said Stensrud.
Documents obtained by the Royal Banner, in a Colorado Open Records Act Request, revealed that Principal Stensrud was aware of Lori's departure from the school as of October 24th, several days after Lori announced she was leaving Fairview.

Additionally, these documents showed that the counseling department went without a replacement mental health worker until December 1st 2018, 38 days after Stensrud learned of her resignation. 
"Marilyn's replacement is not able to start until December 1st."
"As Marilyn's replacement is not able to start until December 1st, Marilyn will be splitting her time until the week following Thanksgiving Break," said Sara Weatherly, a school based supervisor for Mental Health Partners, in an email to BVSD officials.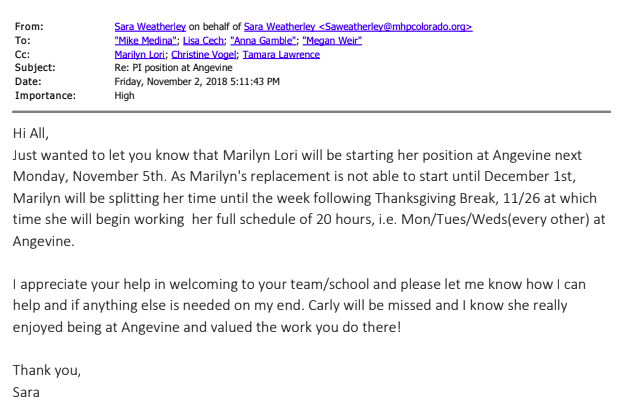 Lori was subsequently embedded at another school, and was replaced by the current interventionist, Karen Van Zuiden, who reported Atkinson's alleged assaults in August 2019, almost a year after the alleged incidents took place.
"In August, our new Mental Health Worker, along with one of our counselors, got reports of [Atkinson's alleged assaults]. They immediately contacted our school resource officer," said Stensrud.
On October 29th 2019, Lori was arrested by Boulder Police for one count of Failure to Report Child Abuse, according to information first published by the Denver Post.
"Suspect that a child has been subjected to abuse or neglect."
State statutes dictate that someone who is a mandatory reporter must file an immediate report if they have "reasonable cause to know or suspect that a child has been subjected to abuse or neglect or has observed the child being subjected to circumstances or conditions that would reasonably result in abuse or neglect."
On December 16th, Superintendent Rob Anderson referenced the mandatory reporting policy in his first email about sexual violence since he was selected by the BVSD School Board.
"Every school district employee is a mandatory reporter and required to complete annual training about reporting child abuse and neglect immediately to authorities."
The email was sent to parents and staff, not students.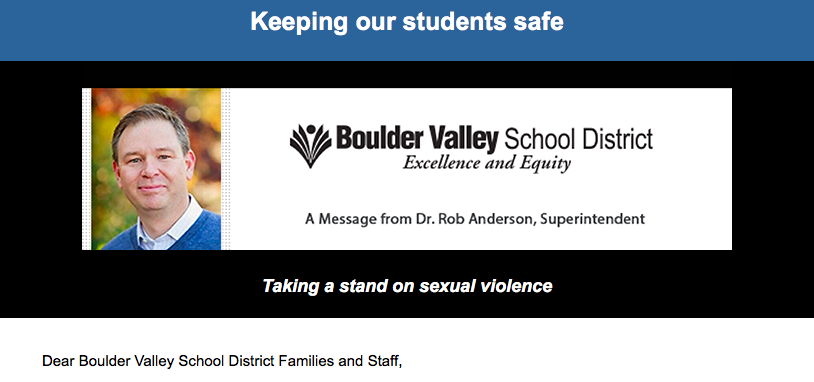 Fairview administrators have taken steps to address sexual violence in recent days, the most promoment being a training, organizied by MESA(Moving to End Sexual Assault), on January 6th.
"It's not an easy situation," said Stensrud.