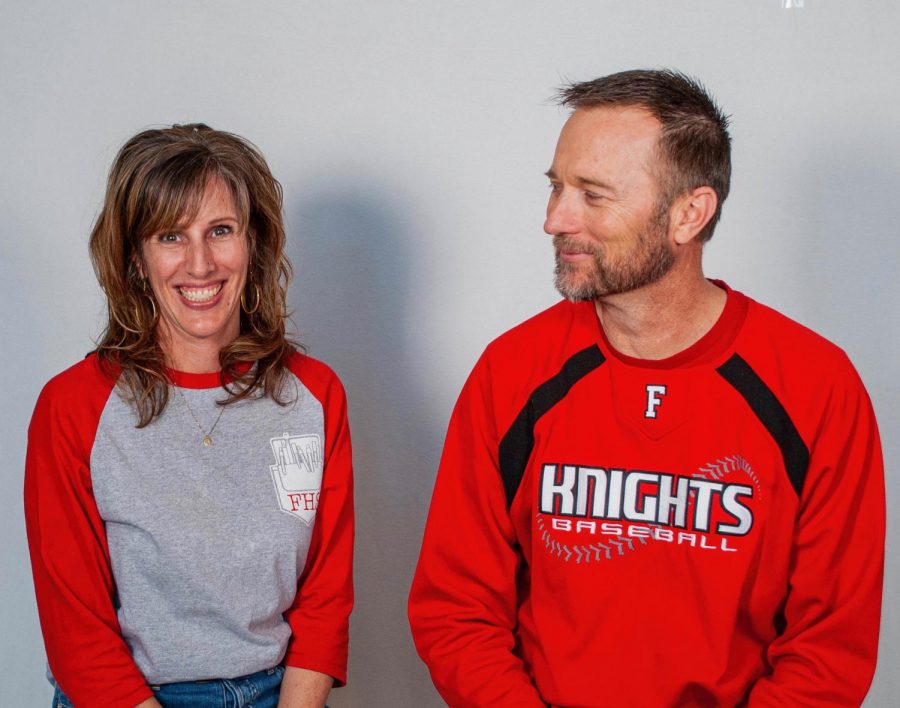 Io Hartman
The Costellos
Family and Consumer Sciences teacher Kari Costello and Social Studies teacher Sean Costello work on opposite sides of the school. 
"I don't see him very often," said Kari Costello, "but when I need to ask him something or ask about our kids, it's nice to be able to pop up here or have him come down to my classroom, and ask." 
The couple has been married for 15 years, and they have two children in middle school.
Kari Costello has always known she wanted to be a high school teacher, but Sean Costello didn't figure that out until later in life. Originally, he was a baseball coach.
"Teaching someone how to field a ground ball hit is just like teaching someone how to do a DBQ," said Mr. Costello. "You have to have a relationship with kids, you have to be able to work with them, you have to have patience to work through their ups and downs."
The couple met because Kari Costello was teaching dance in the same school district.
"My dancer suggested we date," said Kari Costello. "She was a matchmaker."
Present day, one of the challenges they have faced working in this closely-knit environment is keeping their personal and professional lives separate.
They both have their own strategies for making that distinction. Kari Costello explained how she tries to be aware of her mindset so that she can catch herself when she's thinking negatively or venting about something from work. 
On the other hand, Sean Costello usually decompresses and internally reviews his day on the drive home so that he can let go of the problems from his day before getting home. 
"When I [walk] through the door, now I'm home," said Sean Costello. "And now I'm dad; now I'm husband."