Dear Santa Letters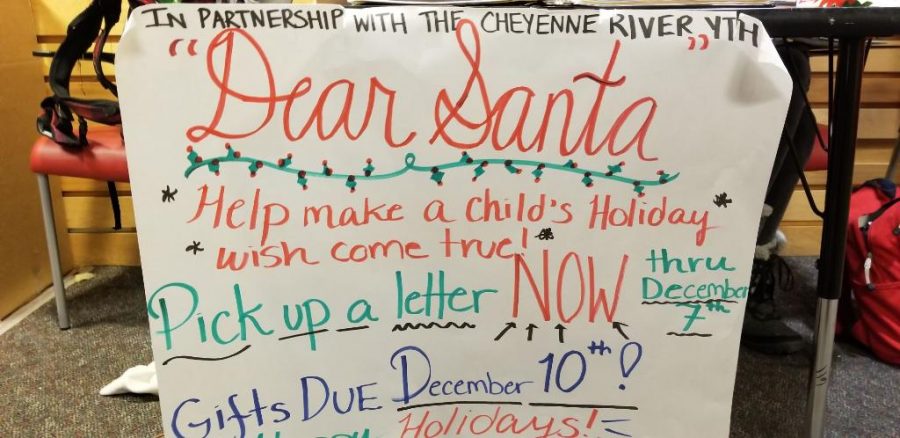 About 1.6 million Americans can not afford to buy their kids presents each year for Christmas, according to DailyMail.com. This number includes many people in our community who don't have the chance to give and receive gifts around the holidays. Near the front office, there's a table run by students from National Honor Society that helps give kids presents this year during the holidays. The project is called "Dear Santa Letters."
Kids, specifically members of one of the poorest reservations, the Pine Ridge Reservation in South Dakota, can write letters to "Santa" asking for small gifts and toys. Students can pick up these letters at the table and buy presents for the kids. Then, they drop them off at the office.
Mick Konstantopoulos, an 11th grade volunteer, said "anyone can come; parents, teachers, kids. They get these letters that the kids wrote that have gifts that they want for Christmas and whoever picks it up goes and buys the stuff for them and drops it off at school. Then the school sends it to the kids and the families that can't afford them so the kids can still get presents."
Many teachers believe in the organization and encourage their students to participate in it. One of the most passionate teachers is Lisa Navarre, a social studies teacher for 23 years.
"Most of us have so much, that it feels good to make a special day for a child where they don't have so much. I always take letters because I can. It's this lovely opportunity to do something special for another community," said Navarre.
Another great part about the Dear Santa Letters is that people don't do it because they will be rewarded with a "thank you."
"Another thing I like and think is great, is that nobody thanks you.  They don't know who you are so you're doing it out of the goodness of your heart, not because someone is going to come back and give you gratitude," said Navarre.
Navarre said, "I have seen Fairview students and the Fairview community be really generous and it really just warms my heart."