A House Divided Cannot Stand – Two Cities Reflect America's Changing Political Culture
This summer, I set out to paint a portrait of American democracy; I wanted to understand the influence that the 2020 election is having on different parts of this country. Twenty Democractic candidates stand to challenge one of the most controversial and polarizing presidents in our nation's history and plenty of people are talking about it.
The field, however crowded, is full of old problems and new solutions; it can seem like every American has an opinion about each issue.
This opinionated culture can feel like it's split at a deep divide; both sides of the political spectrum are sharply divided on almost every issue, or so it seems.
From the rolling hills of West Virginia to the imposing mountain ranges of Colorado, the ever-widening chasm of partisan politics is driving Americans to take a stand for what they believe in. 
I hope you'll join me in this metaphoric road trip across this nation, stopping in two vastly different hotbeds of activism and turmoil along the way.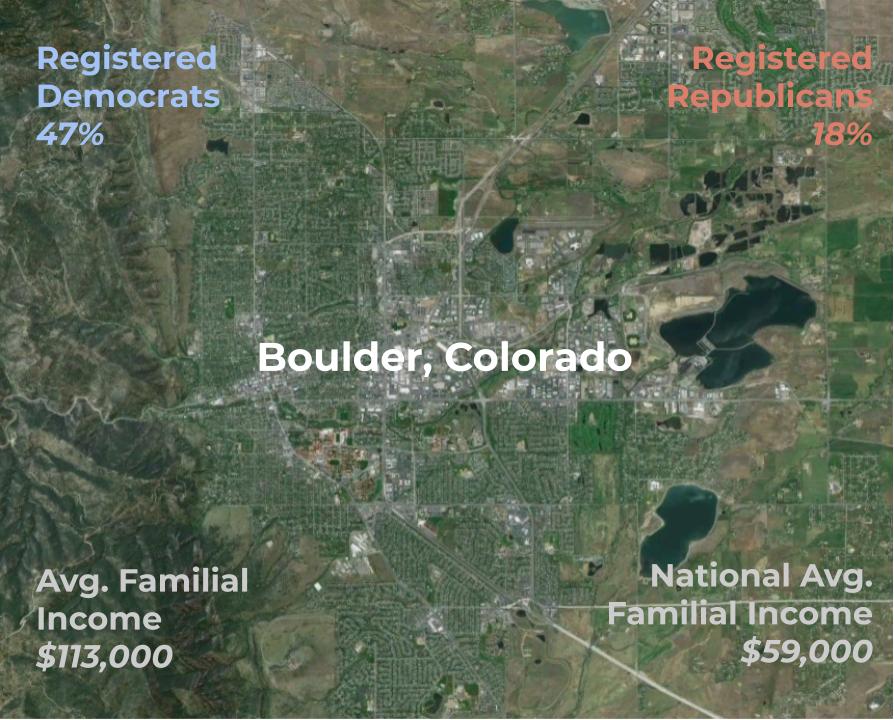 Our story begins in the city that I live in: the hip, liberal hotspot of Boulder, Colorado. Framed by the looming Rocky Mountains, the residents of Boulder are not shy to express their opinions.
When not skiing, climbing, or hiking, their pastimes often take a turn toward the political.
Students in high school, middle aged parents and even the oldest members of this community are participating in activism at every level.
These activists take to Instagram and Twitter, the street and to city hall. Self proclaimed "Boulderites," they focus on issues like universal healthcare, combating the opioid epidemic sweeping the country.
The activists of Boulder sometimes take a positive view of their work. One Boulder resident said, "[Being an American means] embracing the freedoms we have and fighting for the ones we don't."
However, another Boulder local took a more cynical view of America: "[It] means accepting a system that often fails to uphold its values."
This level of community involvement is certainly an outlier in the grand scheme of American Democracy, but its origins come from an influx of wealth and white Democratic residents in recent years.
In fact, residents even have a term for the political isolation of this town: the "Boulder Bubble." There are almost 3 times as many registered Democrats in Boulder than Republicans, according to the Boulder County Clerk's Office.
Boulder is also unique because of its financial accoutrements. According to the U.S. Census Bureau, the average family income in Boulder is 113,000 dollars. In comparison, the average familial income across the country is 59,000 dollars. 
This means that residents can take stands on issues that won't affect them day to day. They have access to private healthcare, outdoor recreation and a sprawling downtown filled with amenities and successful small businesses.
You won't find a starker contrast to this type of lifestyle and activism than in St. Albans, West Virginia, the second city on this "trip."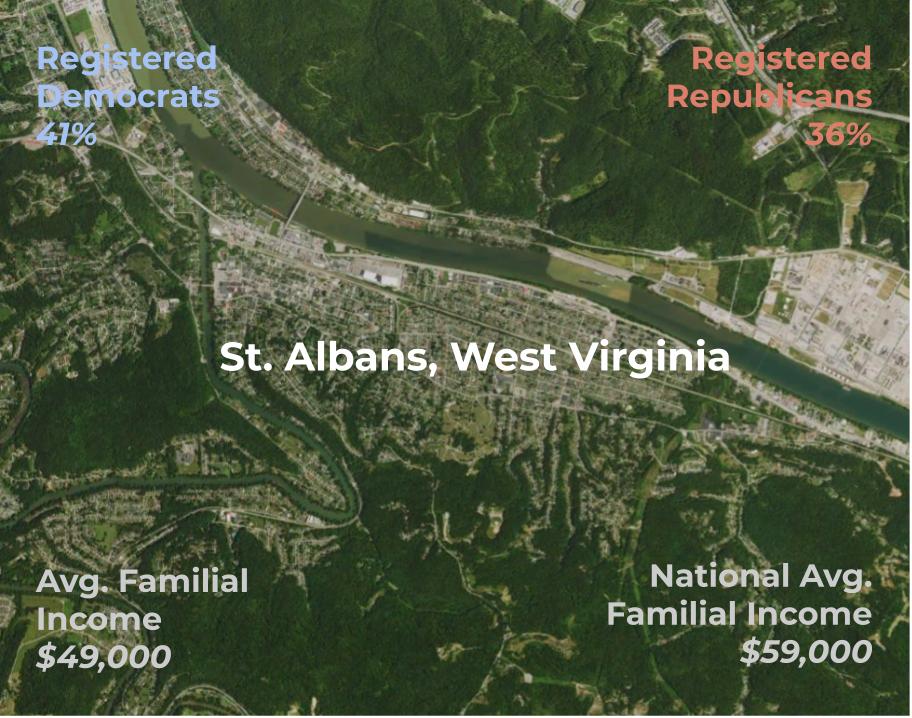 I visited St. Albans this past July alongside my parents and sister, as a significant portion of my mother's family was raised, or currently lives, in the city.
Settled neatly between the Blue Ridge Mountains and the Shenandoah River, St. Albans is in the middle of a state that voted decidedly for Donald Trump in the 2016 presidential election. According to citydata.com, St. Albans has consistently voted more and more Republican since 1996, going from a center-left town to a moderately Republican one in recent years.
This 10,000 strong community is tight-knit, and I found it difficult to reach out to most residents during my interviews.
Unlike Boulder, it was hard for me to find any political activists of the same verbosity and directness. However, once I started talking to the people of St. Albans, I encountered a community deeply aware of the crises threatening to overwhelm their state, with residents desperate to take action.
According to the National Institute on Drug Abuse, West Virginia has the highest rate of opioid related overdose deaths in the country. 833 people died from opioid overdose in 2017. By comparison, 578 Coloradans died from overdose the same year. Colorado has nearly twice the population of West Virginia. People in St. Albans are acutely aware of this epidemic, and its prevalence has left residents saddened and skeptical of their local and state government.
When in St. Albans, I asked one of my interviewees, "What does it mean to be an American?"
His simple response summed up the disappointment and frustration that many in West Virginia face: "Honestly? It kind of sucks."
West Virginia's dissatisfaction in their national leadership and experience with a raging public health crisis are some reasons why that lead the state to vote for Trump in 2016, says Mike Plante, a democract strategist based in Charleston, WV. As an upset candidate, Trump campaigned on slogans such as "drain the swamp," a welcome promise to a state in the midst of economic and communal turmoil. 
For a nation seemingly on the brink of a social revolution, a small city in West Virginia can appear to be somewhat "backwards," as a local pastor put it, but the people there want to fix the issues that threaten them just as much as anyone anywhere else.
—
America is at a turning point. This country has devolved from the notion of two parties coexisting to an "us versus them" mentality. This coming election has the power to decide if we are capable of pulling ourselves out of this pit of primal rivalry and tribalism.
The people of the United States, in the end, are not all that different. We are a nation born of hardship and turmoil, yet our historic leaders have persevered, in many cases because of their differences. 
If people from two cities on opposite sides of the political spectrum have the ability to recognize similar issues and work to fix them, it's quite possible that all Americans can do the same together.
Leave a Comment
About the Contributor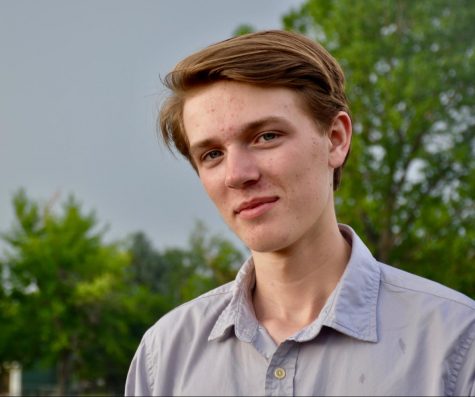 Henry Larson, Co Editor-in-Chief
Henry loves telling stories. Mainly, that means he produces podcasts, which you can check out here. When he isn't doing something related to journalism,...