Cruisin' Downtown – Exploring Boulder's Popular Summer Cruiser Ride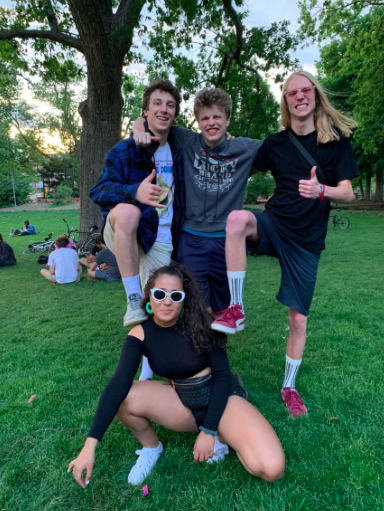 Ash Holcomb looks around at the pajama-wearing teens holding their bikes and laughing with their friends. 
"If you look around you, not a lot of people on their phone, right?" he said.
The Boulder Cruiser Ride, also called the "Happy Thursday Cruiser Ride," is a weekly event where many teens take their bikes to Scott Carpenter Park to embark on a bike ride with about one hundred other people. The ride officially starts at 7:30 p.m, but the actual bike riding occurs at 8:00. Each week there is a different theme that the riders can dress according to, such as The Breakfast Club and Slumber Party. 
Holcolmb, who has been attending the Boulder Cruiser Ride since it began 25 years ago, said that there are no designated leaders of the cruiser ride — the route and the leaders are made up as they go. 
"Because I have the bell [that starts the ride], I guess I'm kind of in charge, but my role is to make sure there is no one in charge. Throughout the years, people have tried to take over and run the place with cruise rangers and plan the route," said Holcomb. "I'm here to make sure we don't have any order whatsoever."
Holcomb believes that because there are no rules, the route is more fun. 
"If there's order it would still be the same route every week. It could get boring. So we go around circles and mix it up so that a new person is in front all the time, and that person decides where we're going," said Holcomb. "Sometimes we end up going into a parking lot, or in the back of someone's house, or a school, who knows where we're going? And that's what makes it fun. And that's what makes new kids here a part of the process."
The original cruiser ride was a mixture of adults and teens, but they split off into two separate rides with differing starting spots ten years ago.
 "It's fun […] when we run into the other cruisers, when all the cruisers come together," said Holcomb.
Illegal substances are common. Anybody watching the cruiser ride will see riders, many of them underage, smoking weed or drinking beer. Typically, people will drink alcohol before riding their bikes, which can be dangerous. The enforcement of Colorado laws has been inconsistent. 
"It's kind of been absent this year but there, for years past, has been a Boulder PD or two on the ride handing out tickets for open container," said Holcomb. "The adults don't want to have the cops around, so that's why they also split off. But this year, the police have been leaving us alone, so that's been nice." 
Nevertheless, getting outside, friends and exercise have always been the main attractions to the cruiser ride. 
"Everyone's at them from all schools so you can hang out with friends that go to different schools," said senior Quinn Kolb, who has been going to the cruisers for two years. 
The Boulder Cruiser Ride is also a nice way to dress something different than the normal day-to-day life.
"It's just fun, it's a good way to get together with friends, get outside., said sophomore Caleb Moser. 
The cruiser rides are most popular during the summer, but they go on all year. 
"To have a large group like this where everyone's getting along, there's not any fights, and everyone has a great time, and we play frisbee, and we bring watermelon," said Holcomb. "It's embracing the human spirit." 
Leave a Comment
About the Contributor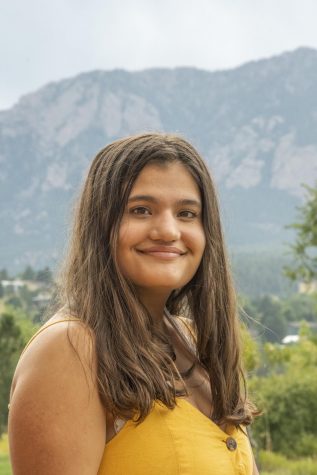 Ava Svolos, Co Editor-in-Chief
Ava Svolos is a Senior and this is her third year on the Royal Banner staff. She enjoys traveling, tennis, and being with her dogs. She is excited to be...