"We Can Do A Better Job" – Fairview Struggles With Upholding Title IX
You probably don't know about an incredibly important set of rights that you hold. They protect you from discrimination, harassment, and assault, yet virtually no students understand them. The role of Fairview administrators in this is instrumental: they have the power to change this, and they, by law, are obligated to.
The law is Title IX. Passed into law in 1972, it affects federally funded activities, programs, and schools.
Title IX states that "No person in the United States shall, on the basis of sex, be excluded from participation in, be denied the benefits of, or be subjected to discrimination under any education program or activity receiving federal financial assistance." 
Title IX also requires schools to have a Title IX coordinator: a person who must ensure that all students are in an environment where they do not feel discriminated against or harassed because of their sex or gender. Their job includes investigating and resolving grievances that students have regarding Title IX.
Still, many students have not been informed of these rights. In a survey conducted by the Royal Banner, zero out of one hundred students knew who the Title IX coordinator was. 
"The main issue with Title IX is, everybody needs to know what's going on. [Students] should be able to say, 'no this isn't right,'" said social studies teacher Susan Stensrud.
Ms. Stensrud expressed that students aren't aware of their rights under Title IX, a shortcoming that Principal Don Stensrud also pointed out.
"I think we can do a better job, at telling students their [Title IX] rights more explicitly," said Principal Stensrud.
Title IX requires schools to send out a "notice of nondiscrimination," declaring that the school does not discriminate or tolerate discrimination or harassment against students because of their "disability, race, creed, color, sex, sexual orientation, gender identity/expression, national origin, religion, ancestry, need for special education services, or physical characteristics."
While we do have a notice of discrimination in our school's code of conduct, found on the school's website, the notice fails to include the name of the school's Title IX coordinator, as required by law. This information is also excluded from the district's notice.
In fact, our website contains no information whatsoever about Title IX, and the BVSD website has limited information about Title IX coordinators for the district. 
"I don't think there was ever information online [about Title IX] regarding the school, but the Title IX coordinator used to be on the BVSD website until they updated it. Now, I can't find it anymore," said Principal Stensrud.
The lapses of both the school and the district have impacts that extend past the websites. When students report something to their counselor, both Principal Stensrud and Sarah Digiacomo, one of the school's assistant principal and the officially designated Title IX coordinator, said that most students reach the Title IX coordinator through a counselor or another administrator. 
Principal Stensrud said that while counselors do work with the Title IX coordinator, student complaints can be—and often are—resolved before reaching Digiacomo, even when the complaint falls under Title IX. Digiacomo said that in most cases, students are not even made aware of Title IX. 
"A Title IX investigation is only needed when we cannot just quickly remedy a situation, when we need to look more closely at what's going on," said Principal Stensrud.
The current way in which students' complaints are handled begs an important question: do students know that they have Title IX rights, and are they notified when their complaints suggest that their rights are being violated?
Digiacomo and Principal Stensrud's statements suggest that it is counselors, and not students, who deem complaints as Title IX violations. A student should have input in the way their complaints are viewed; whether it is deemed a Title IX issue should be the student's choice. 
In the same Royal Banner survey, only 16% of students knew what Title IX was. This statistic suggests that the school violates federal policy that requires schools to spread communication to students regarding their rights.
"Title IX is important so that people feel like they have protection under the law, and that they don't need to be harassed, or endure it," said Principal Stensrud.
Plenty of administrators and teachers agree with this message and agree that it is not being conveyed to students clearly. Yet, it is difficult to know what to do. 
"It's hard to find a venue to get kids that information because we only have freshman seminar, and then that's it. […] We need to have more access to kids throughout their high school education to make sure they're getting [information]," said Digiacomo. 
Both the school and the district as a whole struggle with getting out information about Title IX. Nevertheless, Title IX is about more than just one school.
"[Title IX] is not just a school issue right now, it's a societal issue. [Discrimination and harassment] are bigger than Fairview," said Principal Stensrud. "They permeate our culture."
This story was originally published in the Royal Banner's February issue.
Leave a Comment
About the Contributor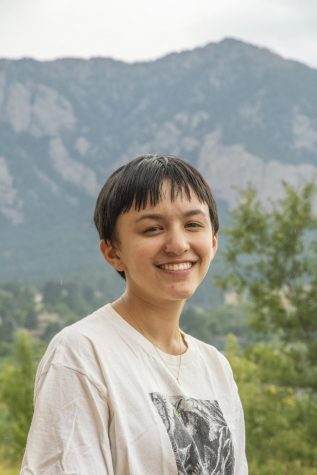 Maia Penuel, Audio Editor
Maia is currently in her first year at FHS Publications as the new audio editor. A newcomer to the Royal Banner and FHS Publications, Maia looks forward...