Never Give Up – Ryder Heuston Commits to DU
Ryder Heuston and the varsity boys golf team won the state championship in October. Heuston is also committed to the University of Denver, where he will continue playing D1 golf. Heuston's senior year scoring average was 69.6. Heuston was three time All State, a BOCO player of the year, individual league champion and tied for first at regionals. Heuston's career low score is a 62 (-10). He finished his senior year in 8th place and his sophomore year in state 4th.
During the winter of his junior year, Heuston had a terrible ski accident. After hitting his head on a boulder, doctors were preparing his family for the harsh reality that he may never walk again. Heuston was diagnosed with a traumatic brain tumor, and had to go to rehab twice\; once for 3 months and once for 9 weeks, just to learn how to walk again. Heuston wanted to work hard and prove to everyone that he is worth every second of his second chance at life.
Heuston explained how it's hard to play golf as a team because you are not near each other. When you are all on separate holes, all you can really do is give your teammate a high five. People think golf is a very mellow sport but there is really a lot going on in a player's head.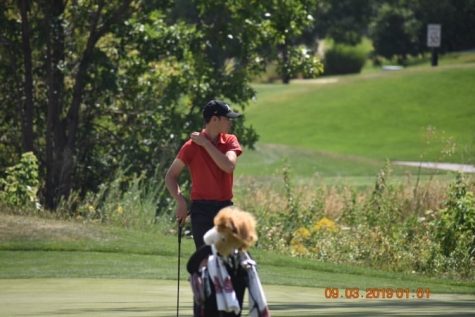 "Golf is 90 percent a mental game," said Heuston.
Your coach knows exactly how you are doing in the game, so he can say: "you and your teammate, you doubled your hole, so you have six holes left. You have to figure out a way to make those two shots up."
In the state championship, Heuston had a really bad 4th hole that put him out of the state contention for individuals, but the Knights were still contending as a team.
Heuston had 14 holes to figure himself out the next 2 hours. Coach John Zerwin said, "I don't care about what you're doing for yourself. You gotta play for the team."
Heuson did just that in the last 14 holes.
"If you give up for yourself you can't give up for the team," he said. "The game is really, really annoying. You can hit really good shots. And it can end up in a lake and you don't really know how it got there."
It's really a humbling game, and you don't even know how it got there. Heuston loves to challenge himself and excels in difficult spots. Like behind a tree with 200 yards to go and wind in his face.
Heuston gave some advice to future golf players: "It's not your highest point that defines you, it's your lowest point and how you recover from that."
Heuston finds that in golf and life and you can do amazing things. Heuston said it shows a lot about who you are by how you overcome challenges.
"The hardest part about golf is in his own head and not giving up," he said. "It takes four and a half hours to play 18 holes, and you have just over two minutes of physical activity, with only two seconds for every swing. You have to figure out how to beat yourself in your own head."
Heuston loves the accomplishment of achieving a goal. It's one of the greatest things you can have. As a golfer he loves getting appreciation, but at the end of the day, it's about what he has got right and what he needs to work on. He looks back at his goals. After Heuston's accident, he wanted to break 75 and took him until June to do that. In the first week of June he shot 74 in a tournament and accomplished a small goal.
Hueston's inspiration was nothing before hand. He was just living life and trying to get over his accident. Heuston realizes that he only gets one chance in life. When Heuston was in the hospital, he met a friend named Olie. Olie was a golfer and he was committed to CU for golf. During the summer of his senior year he got hit by a car and spent the next 8-10 months recovering. Heuston will always look up to Olie and always respect him. Heuston chose DU because he realized that the coach was a great guy within five minutes of meeting him. Heuston turned to his mom and knew that was where he wanted to play golf. It's important to love your sport and always be driven to get better at it.
In the end, Heuston stuck with his motto.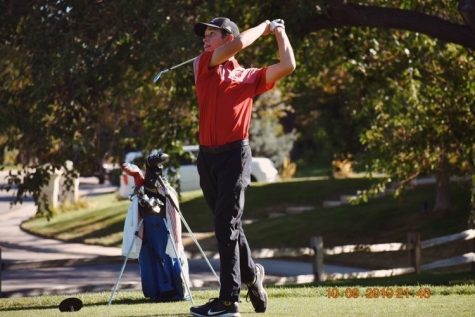 "It's not your highest point that defines you, it's your lowest point and how you recover from that."
About the Writer
John Nassif
John Nassif is a senior at Fairview and loves sports. He likes singing and going out. He is excited to contribute to FHS Publications!