The Volunteer Crisis at the School Store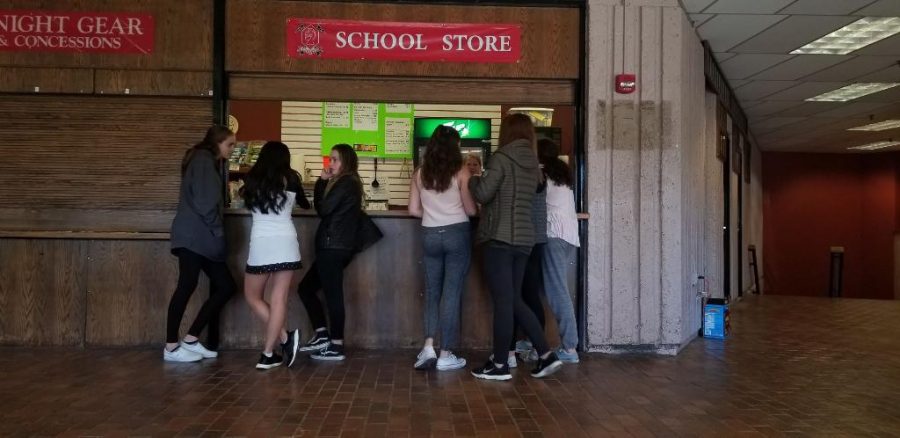 Sarah Smith and Ilauna Baum
December 17, 2018
Everybody loves the school store. Many students even go every day between seventh and eighth periods, buying cookies, chips, bagels and much more, causing many to be upset when the store is closed down.
Sophomore Khloe Tucker said, "I wish they would open earlier! I love the cookie dough and the people who work there are very nice. Last year I went every day during seventh period."
The school store is loved by everyone, but very few people realize the effort that it takes to run it. The store is run only by parent volunteers that give up their free time to help out.
Susan Jones, a volunteer for the store, said, "I love working at the school store. It's cool to see where my kids spend their time and the people that they hang out with. It's a really cool opportunity."
Jodi Jonis, a parent volunteer, said she's helping out as a way to meet new people.
"My son is new to Fairview this year, and I thought that since we just moved to Boulder it would be a good way to meet new people and just see the kids and what's going on," she said.
On average there are about 20 parent volunteers that each take a few shifts every month. There are almost always two people running the store at all times.
Jonis said, "I've heard some people do this alone, but I could never do this without help."
In past years, the school had enough people to smoothly run the school store, but this year they have had a lot of trouble getting enough parent volunteers to volunteer.
"This year we definitely do need more volunteers. There were a few days when they couldn't open and I've seen a few emails go out saying they were looking for more people," said Jonis.
Students this year are very upset about the store being closed, which has happened about four times this year.
Sophomore, Laura Millard said, "I really don't like when the school store is closed because I always get hungry during eighth period and then I can't eat."
Though some students are upset, there is a bigger issue with the constant closure of the school store. The profits from the school store go towards funding the IB program.
"The school store supports the IB's and I'm guessing the money goes towards the fees for IB and the teacher's training for IB," said Jones, another parent volunteer.
The lack of parent volunteers means less money is going to the IB program for teacher funding, scholarships, and important materials, and a general feeling of unhappiness in the school.