"Sister Act" Preview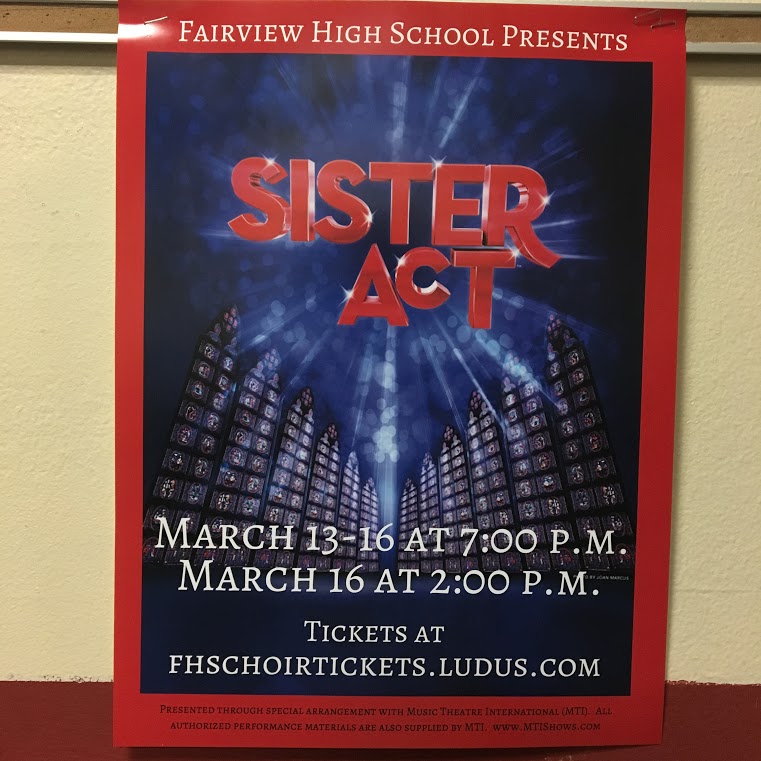 Sam Pearce, Copy Editor
March 12, 2019
It's time once again for the Fall—or rather Spring—Musical. This year, Sword in the Stone productions will be putting on the classic 90s comedy "Sister Act."
Even if you've never seen the movie, you can rest assured that the show will be wildly funny and entertaining.
Mattie Blickensderfer, a senior who plays a nun in the show, summarized the plot: "Dolores Van Cartier is a singer… she's dating this guy named Curtis… and he's kind of this really sketchy guy. He kills someone and… she gets away from him and goes to the cops….  This cop, Eddie, is trying to find somewhere to hide her that Curtis would never look for her, so he puts her in this convent of nuns. She lives there for a while and she has to fit in as a nun."
The plot alone makes this musical worth seeing, but it's even more enjoyable when you know about the hard work and stress that went into it.
As everyone knows at this point, construction on the school has caused a lot of inconvenience and uncertainty to athletics and activities, and few activities have been as affected as the Fairview Theater Department. Since the beginning of the year, the auditorium has been closed for a remodel, but now the auditorium is nearly complete and ready for performances.
The cast and crew of "Sister Act," some of the first people to get to use the brand new auditorium, are excited to show off their talents in this new performing space.
"The new auditorium is absolutely fabulous! Like any project of that scale it has had its challenges, but we know that once it's completed it is all going to have been worth it!" said Sarah Halstead, art teacher and technical coordinator for Sword in the Stone. "We have had less time for working on the stage with the auditorium completion being delayed, but with all of the new equipment we have been given… it has really affected the musical for the better!"
"It's… super nice to have something new, and… clean, and nothing is messed up too bad (so far)," said Nicolas Pedersen, a senior and one of the cast coordinators for the musical. "The stairs have lights on them so you can see where you're going, which is nice. The stage itself seems a bit bigger to me…. They rigged up a whole new sound system, a whole new light system."
"I think the new auditorium is pretty cool," said Bridger Bauman, a senior and a chorus member. "It's kind of just like, an upgrade."
The cast and crew are energetic and prepared to put on this show in the brand new space. On top of that, people should come see the musical for the fun, laughs, and of course the music.
"This show is absolutely hysterical!" said Halstead. "It has something that everyone can relate to and really lifts your spirits when you see it. Even if you're not a traditional musical lover, this contemporary production is geared at a versatile audience. If you love to laugh this is a must see!"
"Michelle Lee is Dolores, and she is over the top outstanding," said Pedersen. "She nails every part… [and she] really brings a lot to the show."
"It's actually a really sweet show, it's really funny," said Blickensderfer. "[People] should go see it because it's awesome, and honestly, like, we sound pretty good. We look pretty good and we sound pretty good."
"It is a pleasure as always to work on yet another Fairview production that, like it's predecessors, will go on the list of reasons that Fairview is the best performing arts school in the district!" said Halstead confidently. "Be ready to be thoroughly impressed!"
The show opens on March 13th at 7:00PM in the brand new auditorium!