Freshman's take on the Boulder Vs. Fairview Football Game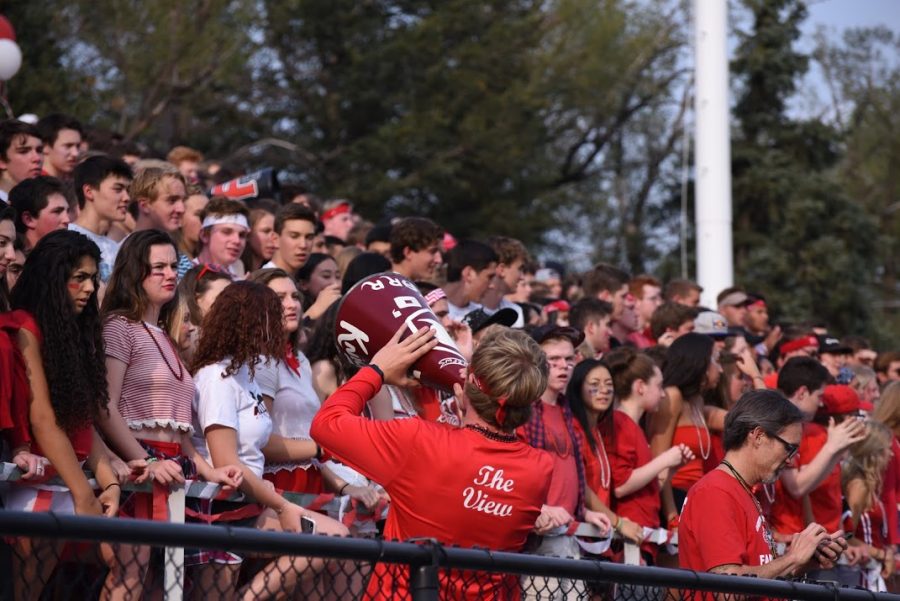 Carina Kehoe and Avery Jefferies
October 13, 2018
Red. White. Baby powder. Glitter. Students getting R-O-W-D-Y. This is the Fairview vs. Boulder High football game. Did freshman get to experience this excitement at the game, or is that only for upperclassmen?
The game on Friday, August 24th, was the first significant high school experience for most freshmen at Fairview. As many upperclassmen will tell you, this game in particular is the best of the season and has the wildest school spirit and the most energy.
Attending football games is a fun tradition many students and faculty enjoy.
"Going to these events is what makes high school fun," said Kelly.
Sophomore Corinne Otterness had a different experience. "[The game was] fun, but it was really crowded. I was overheating a lot of the time," she said.
The Boulder vs. Fairview football game is possibly the most hyped up game of the year due to the consistent rivalry that is shared with Boulder High.
"Sometimes when two teams compete against each other a lot and one team gets to the point where they're always winning it loses its energy because it's no longer competitive," said Kelly. "But I don't think that happens for this one. I think that part of that is because the threat of losing that streak every year that you win and you extend the streak the threat of that going away becomes greater so our energy level increases and their attempt to topple the giant increases."
Tarun Amasa, junior, said, "There was a little more toxicity between the upperclassmen and the Freshman this year, but generally it seems to be improving."
However, freshmen hadn't attended any other games so they didn't have anything to compare the so-called "toxicity" to.
Finley Hutchinson, freshman, said, "It didn't seem like people cared that much. It didn't seem like they were mad at any particular freshmen."
Otterness, said, "The seniors were fine. Mostly just rude to the freshmen but that's fine."
In the end, the spirit and energy of this game is at a high and is worth going to for every student.
"I think anytime that we compete against Boulder in anything…it's a big deal…and it's a big deal for them and it's a big deal for our kids," said Kelly. "I think the school spirit and the energy behind the event is always highest at a Boulder Fairview competition."