BVSD Addresses Some Concerns About COVID-19, CU Boulder Closes Campus
On March 11th, CU Boulder announced that they would be moving all their classes online, starting next week. The move comes just 24 hours after Governor Polis' emergency declaration.
Colleges and universities around the country have started to transfer to online classes, including Colorado College earlier this month.
In an email to CU students, Chancellor Philip DiStefano said, "We will continue to fulfill our mission by ensuring that students are able to meet their educational requirements and faculty are able to continue their research and scholarship, and the campus will remain open to allow that to occur."
"Beginning Monday, March 16, the campus will transition to remote learning for the remainder of the semester," he contiuned.
The university is also suspending all domestic and international travel, as well as any of its study abroad programs.
There have yet to be any confirmed cases of COVID-19 in Boulder County.
—
Around 9pm on March 10th, BVSD sent an email to district "families and staff."
The email provided an update on what steps BVSD will be taking, in light of the Governor's emergency declaration earlier in the day.
It began by addressing the planned march on the capitol by teachers, set for March 19th. BVSD had previously planned to close school that day as they reasoned they would not be able to find enough substitute teachers to cover the shortage of staff.
"We learned tonight that the Colorado Education Association is canceling their Day of Action and March, as a precaution due to concerns around spreading coronavirus," it read. "As a result, we are planning to reinstate school on Thursday, March 19. We intend to be open and operating on a normal schedule that day, following this development. Every day of instruction is important, even more so given the current uncertainty."
In response to Governor Polis' declaration, the email said "field trips within the state will continue. Unlike our out-of-state and international trips, which were restricted yesterday – students traveling within the state are not at risk of being quarantined at a location far from home and family. If, however, you are not comfortable with your student going on a trip, please talk to your teacher or principal."
The email also firmly stated that a state of emergency did not "necessarily signal a significant change in the situation."
In addition to comments about the emergency declaration, the email also addressed a resolution made by the school board.
"This evening the Boulder Valley School District Board of Education passed a resolution that helps to prepare the ground for next steps, in the event that the coronavirus (COVID-19) becomes a pandemic in our area."
The communication mentioned the plans BVSD has drawn up in case of a closure longer than two weeks.
"In the event a school or the School District is closed for more than two weeks, the School District will implement 'E-Learning Days' and 'Distance Learning Days'. These days are defined as instruction delivered digitally or through written materials, by BVSD instructional staff, and aligned with student standards."
The list of materials for instruction included Schoology, Video conferencing, instructional telephone calls, homework packets and email communications.
Some administrators at Fairview have raised concern about online classes, since not every student has access to a stable internet connection.
"At the secondary level, the BVSD 1:Web program means most students have district-issued devices. BVSD will work with secondary students who do not have access to a device at home or through BVSD. Alternatively, students may complete work without using technology," the email read.
Fairview High School is one of the few high schools in the district who opted not to have a 1:Web program, as faculty saw the district issued Chromebooks as ineffective for learning and easily breakable.
The resolution also encouraged parents and students to stay home if they felt sick, and said that "absences to prevent illness will not be penalized."
"Parents who wish to keep their children home for up to two weeks as a preventative measure will not be penalized. Absences will be counted as excused, with notification by a parent/guardian (without a note from a healthcare provider)," it continued.
BVSD also mentioned they are preparing a "Remote Instruction Survey" for families to assess their access to online resources.
The survey will be sent out digitally.
For more information about coronavirus, please consult the CDPHE website.
Leave a Comment
About the Contributor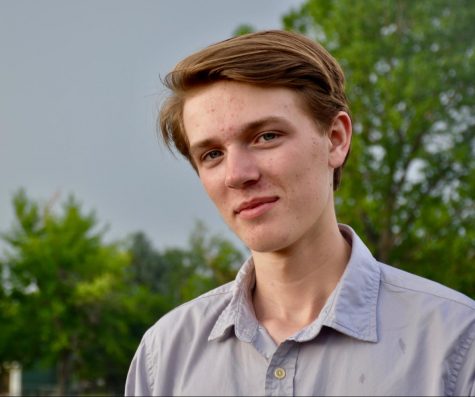 Henry Larson, Co Editor-in-Chief
Henry loves telling stories. Mainly, that means he produces podcasts, which you can check out here. When he isn't doing something related to journalism,...