2021 All-Star Events Recap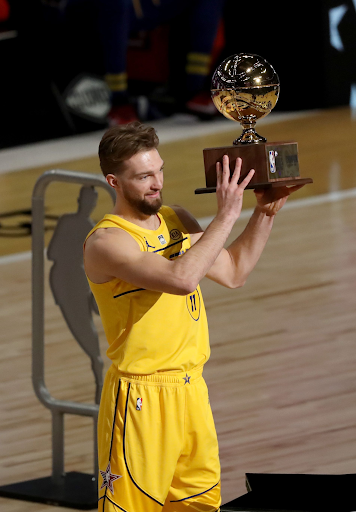 Marking the midway point in the NBA season, All-Star weekend gathers the league's best and most skilled players, shooters, and dunkers for a series of events and games. March 7, 2021 features the NBA Skills Challenge, Three-Point Contest, Dunk Contest, and All-Star Game. Here is a recap of the former three events. Read a recap of the All-Star Game here.
Taco Bell Skills Challenge
Participants: Nikola Vucevic (Orlando), Domantas Sabonis (Indiana), Chris Paul (Phoenix), Luka Doncic (Dallas), Robert Covington (Portland), and Julius Randle (New York).
Prior to the challenges, Robert Covington spoke about his alma mater, Tennessee State University and surprised the audience by announcing a $75,000 donation to fund a new basketball facility and scholarships for two students. The bracket was set for Randle, Sabonis, Covington, and Vucevic to compete for the second round, where they would face 11-time all-star Chris Paul and all-star starter Luka Doncic. The odds were in Paul and Doncic's favor, but they both lost their first matchups against Vucevic and Sabonis respectively. Chris Paul missed the layup to go backcourt for the three, giving Nikola Vucevic the edge. Sabonis hit his threes on the first try for his first two matchups, sending him to the finals. The big men got to the three-point line at the same time, but both kept missing until Sabonis made it and was declared victor.
Mountain Dew Three-Point Contest
Participants: Stephen Curry (Golden State), Mike Conley (Utah), Jaylen Brown (Boston), Donovan Mitchell (Utah), Jayson Tatum (Boston), and Zach Lavin (Chicago)
The fact that all of the participants in this event played in the All-Star game just hours later, the competition was set to be fierce. The odds were put on Curry, who is considered by many to be the greatest shooter in history and currently leads the league in made threes, and Zach LaVine, who has been shooting an impressive 43.5% from deep this season. After all six shooters went to shoot their 25 shots and two 30-foot shots, Curry and Conley came out on top, with Curry recording a score of 31 and Conley with 26. They both then advanced to the final matchup, and Conley scored 27 in his next attempt. Curry followed after and started off cold, making 1 of his first 5 shots. He then sank both 30-footers and 4 out of his 5 moneyballs (worth 2 points each). With one rack of 5 balls left and a score of 23, he needed 5 points to win. After making 3 out of the 4 regular shots, he had a score of 26 with one moneyball left. With two seconds remaining, Curry splashed the 2-point shot to leave him with a score of 28, and being crowned the winner. This is the second time he has won, as he won the contest in 2015 as well.
AT&T Slam Dunk Contest
Participants: Anfernee Simons (Portland), Cassius Stanley (Indiana), and Obi Toppin (New York)
Judges: Spud Webb (1986 Dunk Contest champion), Jason Richardson (2002 &2003 Dunk Contest champion), Dee Brown (1991 Dunk Contest champion), Josh Smith (2005 Dunk Contest champion), and Dominique Wilkins (1985 & 1990 Dunk Contest champion)
Taking place at halftime, the dunk contest began. Each of the contestants did two dunks that were rated by the judges from 7-10, for a combined score of 35-50 per dunk. The two contestants with the highest two-dunk total will advance to the final round, where they each do one dunk. They judges then decide a winner with no score.
Cassius Stanley has one of the highest recorded vertical jumps of 44 inches, recorded at Duke and the NBA combine. The 6'6 high flyer has not dunked a single time in a game this season, but looked to make a splash at the dunk contest. He started off by throwing the ball up, catching the bounce in midair, going between his legs, and finishing the dunk while going backwards. Watch it here. It was given a score of 44, and the announcers showed their disapproval for getting such a tricky dunk on the first try.
Obi Toppin was up next. At 6'9, he was the tallest participant in the contest. A rookie known for his vicious in-game slams, the judges were excited for his first attempt. The first try he falsely started, but backed up to try again. He carried the ball in his right hand, bounced it under him, caught it between his legs in the air, and reversed it with two hands. Watch it here. It earned him a score of 48, a very strong first dunk.
Anfernee Simons went up next. 6'3 Simons has done some dunks in games for Portland, but everyone was excited to see what he can do. Instead of starting with the ball, some assistants with ladders stuck a circular holder to the middle of the backboard. Simons jumped straight up, caught it with two hands, and dunked it down. Here it is.  It registered a fair score of 46.
Cassius Stanley was back up. After two failed attempts for a tougher one (each participant gets 5 tries), he ended up throwing it forward and leaping straight to the basket for a clean flush like this. His mediocre plan B dunk got him a 37.
For Anfernee Simons' next dunk, he put on a Tracy McGrady jersey, which signified he would do a throwback to the Raptor's dunk legend. He threw the ball up, caught the bounce in a 360 while bringing it down with two hands, and shifted around for the slam. The execution at the expense of creativity merited at 49. Here is what it looked like. 
Obi Toppin rounded out the second round. He had his 6'8 teammate and all-star Julius Randle stand in front of his father, Obi Toppin Sr (a famous dunker himself). He ran up to them while cradling the ball in his right hand, spread his legs to jump over the two, and cocked back his hand to bring it back around for the windmill dunk like so. His vertical display and creativity earned him 46.
With Toppin and Simons scoring ahead of Cassius Stanley, they advanced to the finals and Stanley finished in last place. For Obi Toppin's final dunk, he ran straight up to the rim from far away, and dunked between his legs from just inside the free throw line. While the dunk is simple, it requires fast hand movement and a far leap. Here it is. 
Simons went next, and it seemed unassuming at first. He tossed it up for the bounce from the left and jumped straight up very high for the one-hand dunk. But after he landed, he mimed a kiss from his mouth. Playing the footage in slow motion shows that he attempted to kiss the rim during the dunk. He didn't quite kiss it, but his head was still above the rim, showing off his impressive vertical. See here how close it was.
After all these amazing displays, Spud Webb and Josh Smith chose Obi Toppin as the winner, but Jason Richardson, Dee Brown, and Dominique Wilkins chose Anfernee Simons. With a 3-2 majority, Anfernee Simons was declared winner of the 2021 NBA Dunk Contest.