"Opulence!" FHS Crafts Guild Completes Zine
Halfway through their first year at Fairview, the Crafts Guild club completed and bound their zine project. Featuring collages, drawings, and paintings, the zine is thematically bound together by the idea of "Opulence" (an abundance of wealth or luxury), and physically bound together with embroidery thread. The club learned about hand binding books together in a January 12th meeting and put the books together themselves.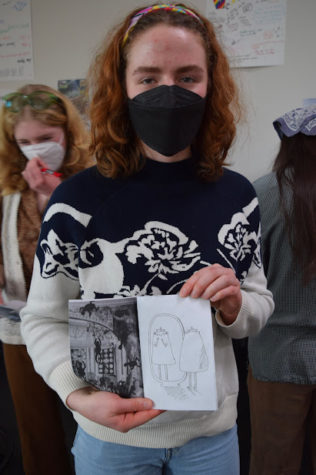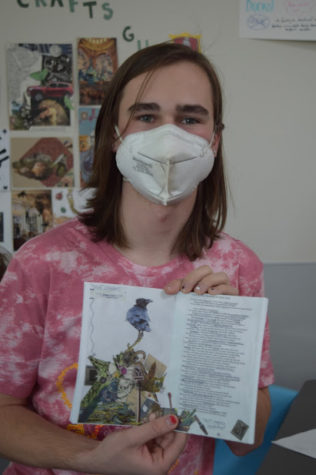 "I combined a collage with a poem that I really liked from Chen Chen," said senior Zane Smith , describing their piece in the zine. "I thought it was cool to mix different genres of stuff, and I think they work well together, because the poem was about collecting things — what other people collected and seeing how that affects their lives.". 
Other projects the club has worked on include linocut printing, jewelry making, and creating posters to promote the club. 
"It was also fun to get into some of the more crafty projects we've done, like making posters for the club. Not just making marker posters, it was fun to have access to a bunch of different cool collage materials," said senior Ilana Diddams. "I also really just like the vibe of being at this club. It's just a really nice space to collaborate."
Senior Sophie Schreiber, who co-founded the club with senior Maia Penuel, similarly noted the great vibe of the club she helped create. "We started this club to bring in different crafts, and it ended up bringing in a lot of people who have lots of different interests," said ___.
Almost all of the Crafts Guild members are seniors, so the club's future next year may be uncertain. 
"It's a lot of seniors, so we're not sure if this is gonna continue on for years to come," Schreiber said, "because there's not many sophomores and freshmen to continue it on. Just promoting it more could've been good, and fun."
This semester, Schreiber hopes to bring textiles into the club with knitting and crocheting. 
"It's so fun," said senior Rebecca Flax, "to have block lunch just to make stuff and decompress from the rest of the day."