Outer Banks Review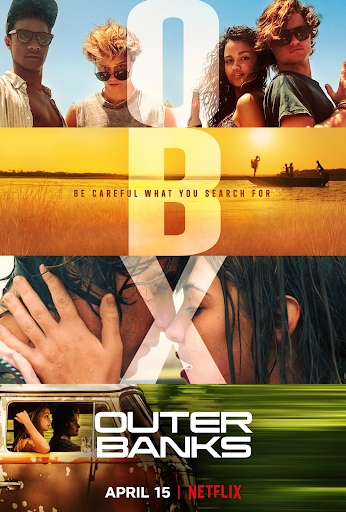 Eliana Knode, Royal Banner Print Co-Editor-in-Chief
April 12, 2022
After being stuck inside for almost two years, you run through all options for entertainment. Baking bread, tie-dying clothes, doing puzzles, TikTok, and so many more trends became popular over the first few months of the pandemic. 
One thing that almost everyone could relate to was spending way too much time watching TV. A show that came out near the beginning of the pandemic (April 2020) was Outer Banks, with its second season coming out in July of 2021, a month before many people went back to school and/or work in person. Many Netflix subscribers were encouraged to binge-watch this show immediately due to its release date and its media presence.
[Spoilers Ahead]
The show follows five teenagers (the Pogues): John B, Sarah Cameron, JJ, Kiara, and Pope, as they search for treasure in the Outer Banks region of North Carolina. In an attempt to find out what happened to John B's father, they stumble across a lost ship, The Royal Merchant, and try to solve the mystery his father possibly died pursuing.
Season one starts off upbeat with Pope, Kiara, JJ, and John B on summer break living out every teenager's dream: unsupervised fun. This includes trespassing into houses that were being built, throwing parties, and boating. One of the major downfalls for the group is the disappearance of John B's father, Big John. With everyone around John B convinced his father is dead, his constant denial leads the group to clues left behind from Big John. But they aren't the only ones looking, causing them to find themselves in life-or-death situations. As the show plays out like a teenage fantasy, the main characters obviously have to face a love triangle, and an enemies-to-lovers trope is even included as well. The plot escalates with John B accused of murder. In order for John B to escape prosecution, he and Sarah attempt to escape North Carolina. The two go out to sea during a tropical storm and face possible death. Season One ends on two big cliffhangers with the Pogue's treasure being swept out from under them, and two of the main characters possibly dying in a shipwreck.
Season two was released July 30th, 2021, a little over a year after season one. It follows the possible death of John B, and Sarah, Kiara, Pope, and JJ are in mourning, not to mention their return to school. As viewers saw during the final episode of season one, Sarah and John B are in fact alive and heading to the Bahamas, the new home of the Royal Merchant treasure. Instead of going back to the dreaded routine of school, they are headed to paradise and 400 million dollars. Their plans are halted, however, as soon as they get to land with a reward for John B's arrest. The three Pogues that are left in the Outer Banks are given a sense of hope when they receive a message from John B which asks for help so that he and Sarah can come home. They face new challenges as they try to clear his name. Like the first, season two ends on a major cliffhanger when the group's treasure is taken from them again! Also, the group is stranded on a deserted island, so season three has a lot to unpack.
Outer Banks is a suspenseful teen drama that captures the viewer with its many twists and turns regarding a treasure that honestly shouldn't have been so easy for them to find. Surfing, partying, hanging out, looking for treasure, facing life or death situations… that's every teenager's dream, right? The show captures the attention of mostly teenage and young adult audiences since it revolves around teenage life in an extremely fictional way. The show is supposed to be unrealistic, though, and it wouldn't be worth watching otherwise. Outer Banks isn't the most original in regards to how it sets up romantic relationships or the idea that teenagers would put themselves in life-threatening situations to find gold, but the dialogue and setting of the show make it special. Even though this show has many light-hearted moments it also unpacks real-world issues. John B deals with a missing Father, JJ struggles with family issues regarding his alcoholic father, Pope struggles to meet his family's expectations, Kiara goes between her parent's expectations and her disapproval of the wealthier people her family belongs to. With there being over eight hours of the show to watch you can really get into it, and viewers are already excited about season three. If you or someone you know is interested in adventure, mystery, or action TV shows, this is perfect for you.