Recapping the National Latin Exam
In February of 2019, all levels of Latin students took the National Latin Exam. Students from Fairview were joined by over 139,000 others from all 50 states and the District of Columbia, as well as 20 foreign countries, including Australia, Belize, Canada, China, France, Germany, Italy, and more. Students with the best tests were presented with awards, which include gold medalists, silver medalists, magna cum laude, and cum laude.
In Latin I, the gold medalists include Edward Wawrzynek (9), Max Eaton (9), Lauren Swanback (9), James Dobbie (9), Claire Tanner (9), Jasper Blume (9), Rebecca Moorman (11), Ilana Diddams (9), Maggie Philpott (9), Julian Champlin (9), Kaidyn Paakkonen (9), Kailas Abbott (9), Joseph Brockett (9), Davis Painter (9), and Lucia Keppler (9). In Latin II, the gold medalists include Hannah Rayder (10), Jenna Rayder (10), Morgan Bauer (10), and Kiana Fan (10). In Latin III, the gold medalists include Delia McKee-Gresham (11), Quinn O'Neill (11), Brooke Fowler (11). In Latin IV, the gold medalists include Sophie Woods (12) and Youngbin Yoon (12).
Youngbin Yoon is in the Latin 4 IB class and serves as President of Latin Club. She's served as the State Secretary for the Colorado Junior Classical League for three years. Yoon is a fourth year International Baccalaureate Diploma candidate. The Colorado Junior Classical League has chosen Yoon as the recipient of the Dorothy Keith Memorial College Scholarship of $1,000.
The silver medalists for Latin I include Phoebe Wu (9), Milo Gardner-Stephens (10), Will Bensler (9), Georgia Stewart (9), Joshua Park (9), Jackson Harada (9), Kai Scholze (9), Briana Hersch (9), Luka Vezmar (9), Alec Wang (9), and Autumn Godard (9). In Latin II, Willem Serface (10), Ned Graf (10), Morgan Agnew (10), and Ellie Gerwing (10). In Latin III, Connor Kelley (11), Aparajita Kaphle (11), Theo Wells (11), Ben Spicer (12), Tobias Lincoln (11), Tommy Kapica (11), and Brian Cicio (11).
"Magna Cum Laude" (translated to English, with great praise) in Latin I include Gordon Loeffler (9), Lara Sembera (10), Connor Boylan (9), Kaylie Maffeo (9), Spencer Banda (9), Lauren Rozumalski (10), Julianne Jones (9), and Olivia Savidge (9). In Latin II, Ella Varga (10) and Keith Gelderloos (10). In Latin III, Shawn Murphy (11)and Evan Lichens (11). In Latin IV, Annika Dombrowski (12).
"Cum Laude" (translated to English, with praise) in Latin I include Grace Matassa (9), Karolina Bank (9), Sa Steinbarth (9), Jacob Jenkins (9), Warren Fu (9), Lucas O'Dowd (9), and Steven Olson (9). In Latin II, Lita Bacus (10). In Latin III, Tavian John (11), Lilli Robinson (11), Kindra Roden (11), and Tony Hao (11). In Latin IV, Natalie Schuler (12) and Andrew Swanback (12).
Behind all of this success is Latin teacher Lynn LiCalsi. LiCalsi has been selected by the Classical Association of the Middle West and South (CAMWS) to receive the prestigious 2019 Eunice E. Kraft Teaching Award for Excellence in Secondary School Teaching.  
A former student of LiCalsi wrote: "Bottom line, Lynn LiCalsi is the person that I will always remember for pushing the limits of what it means to be a teacher. I can speak to, but I can't properly convey, her deep commitment to every single one of her students and her enthusiasm to make us life-long learners."
Her colleagues wrote the same: "Lynn has that magic set of qualities, which on rare occasions combine in a single individual to create a famous teacher. She possesses impressive intelligence, full command of the details of her subject matter, excellent understanding of adolescent psychology, knowledge of the myriad ways to motivate students, and consistent dedication to both innovative teaching methods and understanding of important issues in communities of educators."
LiCalsi has worked hard to teach the Latin language efficaciously and continues to bring success to her students and impact those around her.
About the Writer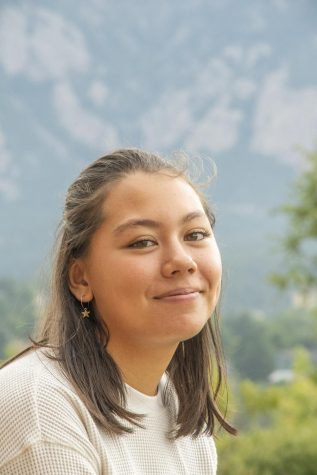 Sa Steinbarth, Social Media Editor
Sa Steinbarth is a sophomore and this is her second year on the Royal Banner. She enjoys dogs, tennis, photography, and traveling. Her favorite place she's...