Disneyland Birthday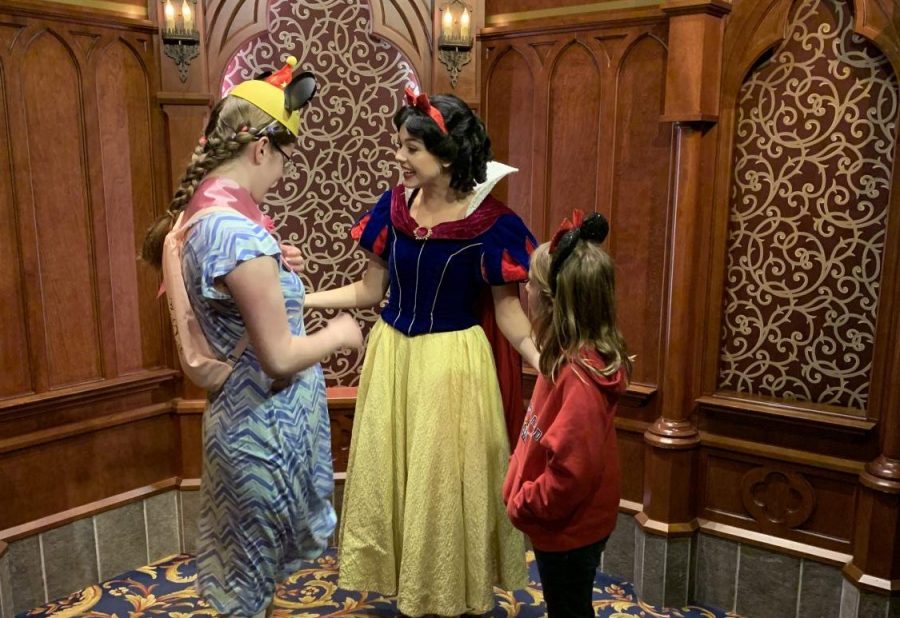 Savana Sheldon, Staff Reporter
May 21, 2019
I went to Disneyland in California for my birthday. My family and I went to the airport. We were supposed to fly Orange County Airlines but it was cancelled because it was snowing hard. My family decided to fly a different airline. This airline was able to take off, even in the snow. During our flight I listened to my music and watched movies.
When we arrived in Los Angeles we went to a place called California Hotel. Inside there was a small TV playing Mickey Mouse cartoons. There were lots of rooms. In the lobby I saw restaurants, stores and a pool. Our room was on the third floor. In our hotel room I watched videos and listened to music on my iPad. I laid down to rest after the long flight.
While at Disneyland my family got a Host, a person who worked for the park and showed us around. Her name was Natalie. Natalie made getting around the park easy. Natalie was able to get us through the waiting lines very quickly.
There are lots of rides at Disneyland. Here are my favorites:
Small World, singing and seeing different places around the world

Splash Mountain, get soaking wet

Space Mountain, super fast

Roger Rabbit, very silly

Big Thunder, fast train ride through the Old West

Fairytale Storybook, ride with all your favorite Disney characters

Pirate Cove, where they sang "A Pirate's Life for Me"

Finding Nemo Submarine, Nemo, Mr. Ray, Bruce, Crush, The Angler Fish, The Jellyfish and The Big Blue Whale

Matterhorn, scary
Other rides I went on and thought were pretty fun were Frog and Toad, Peter Pan and Snow White.
My mother and I went to Toontown to see Mickey Mouse and Minnie Mouse at their houses. Minnie's house was pink, purple and white. Mickey's house was red, orange, yellow and brown.
I went in the Enchanted Tiki Room and saw birds, flowers, tiki faces and crocodiles playing drums. I went inside the haunted mansion and it was spooky. There were ghosts, a corpse bride, talking statues, scary pictures, skeletons and a scary woman in a crystal ball. I went on a pirates ride and they sang "A Pirate's Life For Me."
I went to California Adventure, which is right next door to Disneyland. My favorite ride there is Soarin' Over the World. I liked seeing all the places around the world. It used to be called Soarin' over California. I also went on the Little Mermaid ride. I liked the singing and dancing. I went on the Guardians of the Galaxy ride. It was fast and went up and down. My family and I played a Toy Story shooting game. People had to wear special glasses. The glasses helped you see the screen better. Without them it looks peculiar. I went to Carsland. The cars were fast; it was like a race. I saw Mater and Lighting McQueen taking photos with people. I went on a Goofy roller coaster and I heard Goofy's voice when the ride was over.
When the vacation was over my family and I went to the airport and got on a plane. Someday soon I will come back for another vacation. My favorite part of Disneyland is seeing the characters and going on the rides. My family liked taking me back to Disneyland. They wanted me to be really happy for my birthday. I recommend it.