Free Falling – Profiling Chem/Phys Teacher Amanda Rabatin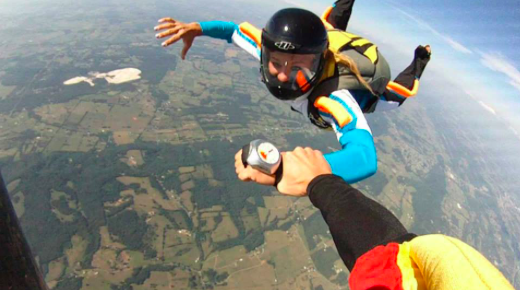 Thousands of feet above the farmland 50 miles outside of Cleveland, Ohio, science teacher Amanda Rabatin found herself with a parachute strapped to her back, preparing to jump out of an airplane for the first time.
Rabatin had wanted to learn how to parachute for a while, so she went with a friend to get certified to skydive five years ago. She had the option of a tandem jump, where a new skydiver is connected to an instructor. But she chose to fly solo because she didn't want to trust someone else with her life.
Worried that she would not make the jump, Rabatin's friend made her jump first. 
"I can't remember much, because it all goes so fast," said. Rabatin. 
She can remember focusing on her breathing and heart rate, as well as screaming when she landed safely.
Not everybody jumps out of airplanes for fun. The United States Parachute Association has about 40,000 members. Skydiving is even less common for women. According to the USPA, only 13% of skydivers are female. 
But for Rabatin, who spends her days teaching physical science to high school students, skydiving made sense. 
"I am pretty sure all the atoms in my body are going to be recycled," said Rabatin.  "I want to make the most of it while they are in this configuration."
Five years since her first jump, Rabatin has completed over 275 skydives. She currently goes skydiving at Mile-Hi Skydiving Center in Longmont, Colorado. Recent events at the Center show that there is always a risk when it comes to skydiving. This year, there have been four skydiving deaths in Longmont.
The risk has not escaped Rabatin. During one jump, she "dropped" first and deployed her parachute. When the airplane circled back around to drop more people, someone from the second drop was falling and nearly hit her. 
When skydivers collide, the dangers include punching a hole in the parachute, tangled wires, and getting knocked out. Rabatin said that if she had been just a little bit higher up, things could have gone badly. 
Skydiving is not Rabatin's only extreme sport. In addition to climbing, hiking and biking, she enjoys base jumping and paragliding. 
"Falling at 120 miles per hour is one of my favorites," said Rabatin, who showed no signs of giving up extreme sports.