Volunteers Distribute Food to Families Across the District
BVSD is distributing food again on Thursday, March 19th at any one of the following locations until 1:30:
Creekside Elementary School
Crestview Elementary Schoolan
Columbine Elementary School
Emerald Elementary School
Louisville Middle School
Nederland High School
Pioneer Elementary School
Sanchez Elementary School
University Hill Elementary School
—
Across the district on Tuesday, volunteers handed out bags of food to those who came by a series of pre-determined locations.
Boulder Valley School District announced their plans to provide meal supplies "to support families that may be struggling with food insecurity during this pandemic crisis," they said in a press release earlier this week.
At Louisville Middle School, about half a dozen volunteers, high school teachers and Food Service administrators handed out two bags of food to each car that drove up.
"If [students] aren't getting fed at school, this is a way to support them in this chaotic time," said Danielle Staunton, who volunteered at the school on Tuesday morning.
"So we have two bags, a car pulls up, we hand them the two bags, our hands are gloved, we stay six feet away, they literally open a window on the passenger side or in the back and we place the bags in[…]and they drive on by," she continued.
Although the volunteers were prepared to start handing out food at 11:30, cars started lining up in the parking lot half an hour before.
Volunteers said that the rush lessened out as the day went by.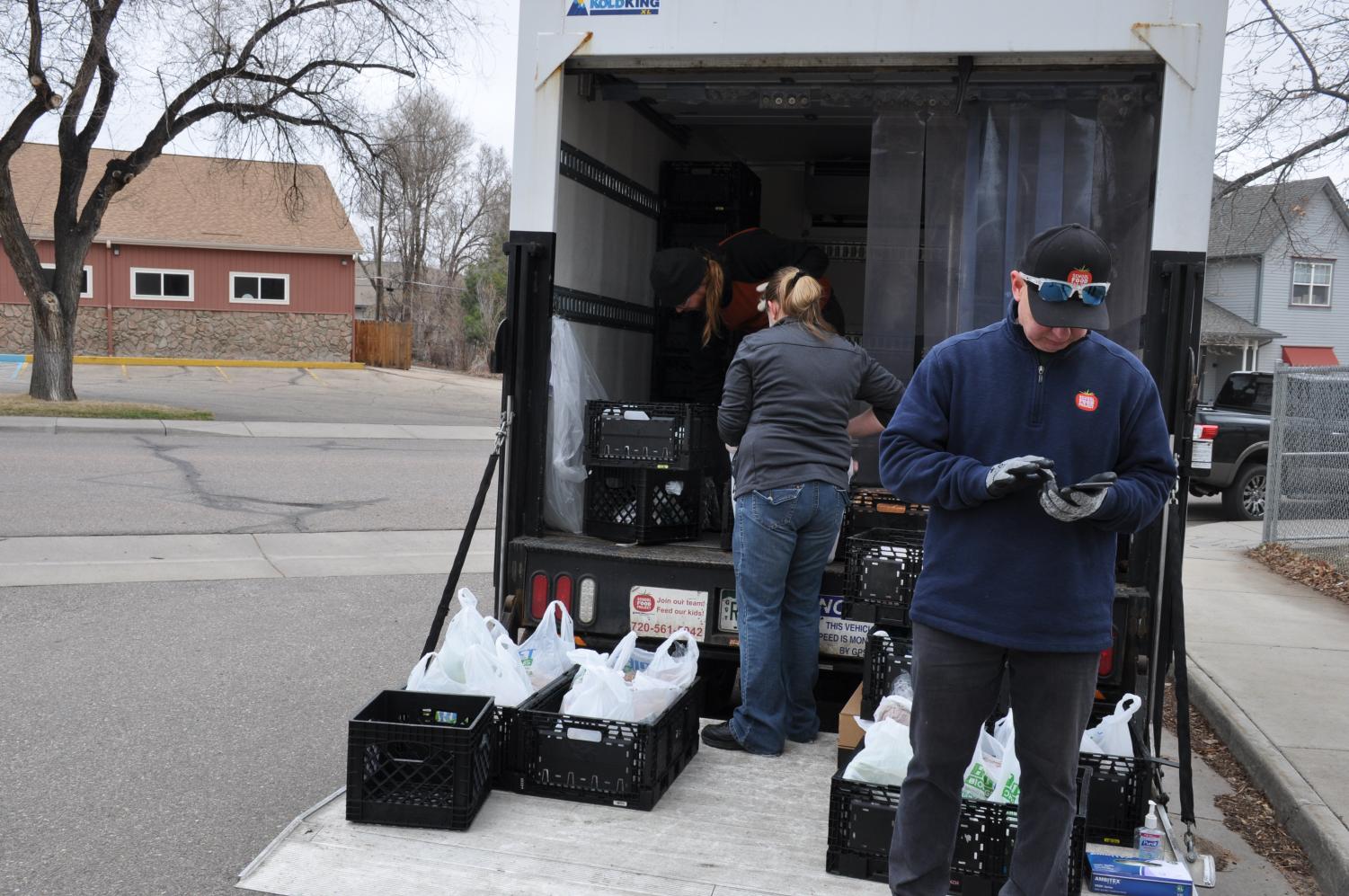 Each bag of food had a mix of different kinds of fresh produce and staples, including lettuce, cheese and other ingredients to cook at home.
BVSD said their goal was to provide "shelf-stable foods along with fresh produce," during the two-week closure.
At some distribution sites, like at Columbine Elementary School and Louisville Middle, the pick-up process went smoothly, and families stayed in their cars.
However, at Crest View Elementary School, instead of encouraging social distancing, families parked on the side of the road and walked towards the truck to pick up their food.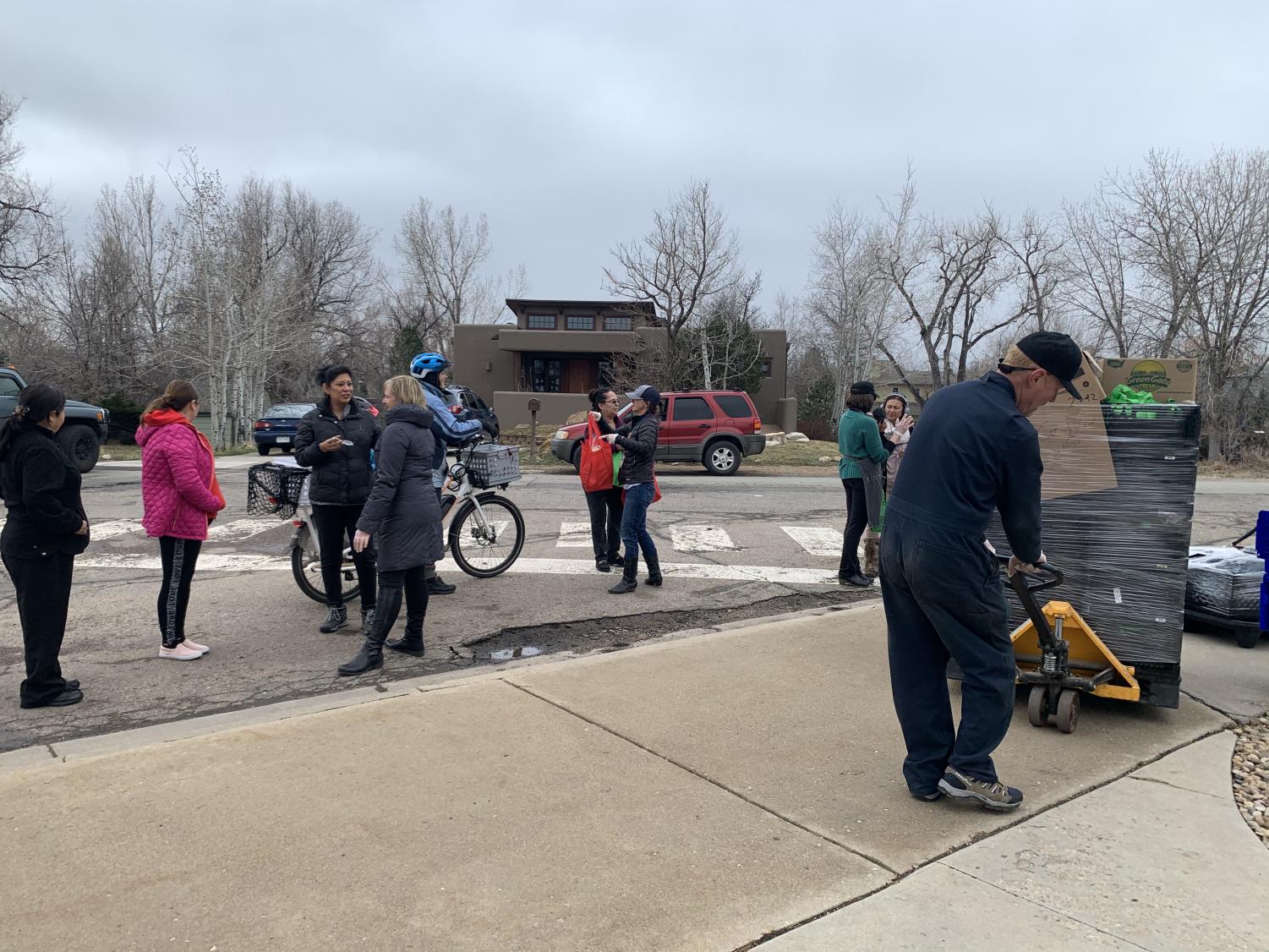 "That's our challenge right now […] that's something as we gear up for next week and the following week we're going to be splitting our teams up into thirds," said Assistant Superintendent Rob Price, who is overseeing the food distribution operations.
"We're going to look at three different sites so that we can get more distance between each other, this is not what we wanted to see, we really want people to be flowing through in the vehicles so that they don't have to get out so we can keep them away," he said.
However, the impact of these food distribution sites on the community has been extremely positive.
"You've got a lot of families that need our help and depend on us to feed everyone, so I think we're not turning anybody away, so as long as we can continue to do this during the closure, we will, and so that's why we're looking at the community resources," said Price.
"Right now we've had a lot of volunteers, Impact on Education has stepped up and provided opportunities to fundraise to help us with this so we're seeing all the tremendous support, which is fantastic," he continued.
Noemi Lastiri, a mom of three girls in the district, stopped working last Friday, and she said she's had to process the reality of her situation. 
"One of the the things that concerns [me] more is that I go to the stores and there are no food," said Lastiri. "If by some way I got a job and I have the money but there is not enough food, that would be one thing that worries me, not only me but my Latino community because we don't have the capacity to have a huge storage of food."
Families are faced with issues not only with food, but with funds as well.
"The higher impact will come in two weeks, when the checks are not in the same amount that we expect," said Lastiri. "I might have to use some savings, I don't want to touch that, but definitely my income will be adjust[ed]."
For the latest information about COVID-19, visit the CDPHE's website.