Chess, Green Pills, and 60's Fashion: The Dark and Gorgeous World of The Queen's Gambit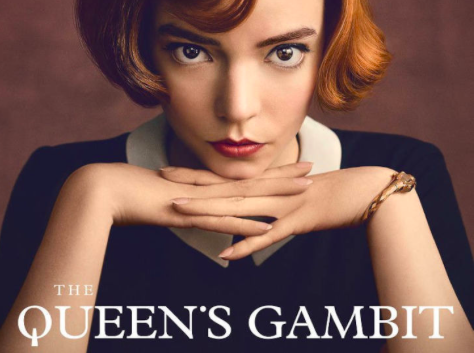 Lily Nobel, Royal Banner Print Co-Editor-in-Chief
December 10, 2020
The new Netflix limited series The Queen's Gambit, directed by Scott Frank and starring Anya Taylor-Joy as Elizabeth "Beth" Harmon, has already gained acclaim from both critics and general audiences. A coming-of-age story told through a series of chess tournaments, it builds a compelling story through unique characters, contrasting themes, and vivid theatrical design that makes even the more passive scenes fun to watch. It's easy to see why viewers are struck by this series. 
The Queen's Gambit is at its core a series about chess and addiction (though do not fear; the viewer doesn't have to have experience with either to be fully engaged in the story). At some points, the lines between them blur– Beth defines herself by her victories in the game and it seems to be all she can think about it. The green pills she takes, which were given to her at the orphanage to "even her disposition," allow her to see a chess board and pieces on the ceiling and visualize next moves and combinations. She comes to associate her success with the drug. As she gets older, she begins to drink alcohol, and despite how it impedes her performance she is seemingly unable to break from it. Taylor-Joy plays the fluctuating joy to pain Beth experiences while engaging with these substances (and then their repercussions) so well that it's difficult to watch. 
Adjacent to the show's plot is the theme of motherhood, as represented by Beth's late mother, the evangelical teachers in the orphanage, and later her adoptive mother Alma Wheatley (Marielle Heller). However, the theme is never deeply explored, perhaps due to the nature of Beth's character– even with Alma, who is closest to her, they connect on a basis closer to that of friendship rather than that of a traditional mother and daughter. (If you want to watch media that more deeply explores motherhood, I suggest the modern classic Lady Bird (2017) or the recent horror film Hereditary (2018)). 
While the show could have chosen to focus on Beth's unique status as a female chess player in the 60's, that was also only a passing theme, which I believe was a good decision. There is a wealth of media meant to be seen as feminist that focuses on the exclusive status of a woman working her way up in a male dominated field, but by exclusively defining the woman's accomplishments by how rare they are due to her sex, the story slips back into that of the male gaze: a woman unique for being a woman rather than a woman unique for being massively talented among all her peers, regardless of gender. Though time period typical prejudice does shadow Beth's career, it is clear she is meant to be seen as a Very Talented Chess Player, not just a Female Chess Player. 
Another thing The Queen's Gambit is notable for is its distinctive and well-cast characters. I couldn't imagine the character of Beth if not played by Anya Taylor-Joy, who slightly resembles a haunted doll, which is inexplicably perfect for Beth's often cold and blunt character. Taylor-Joy is an incredible actor, and her performance is easily convincing enough to allow a watcher to get lost in a world where the calculating and focused Beth Harmon is real and on her way to be a chess grandmaster.
Similarly well cast is the fellow former-child-prodigy character Benny Watts, played by Thomas Brodie-Sangster, who is notable for having the swagger and dress of a cross between a cowboy and a noir detective. The way he talks and moves are casual and confident, but you can see glimmers of the same single minded focus Beth possesses when it comes to chess. 
Supporting characters, all caught in Beth's orbit, include her love interest Townes (Jacob Fortune-Lloyd), her childhood mentor Mr. Shaibel (Bill Camp), and her best friend from the orphanage (Moses Ingram). Despite being supporting characters present in only two or three of the seven episodes, they're all likeable, well written, distinctive, and consistent. 
While it's hard to say whether the theatrical design (costumes, sets, and soundtrack) was the finishing touch or foundation for the show, it's clear that The Queen's Gambit wouldn't flourish as it has without it. The subtle ticking of the chess timer runs through every scene, even when the game isn't being played, reminding the viewer that chess is the main character's real motivation. My brother, a pianist, pointed out the instrumentals in the background, but I think that it's the sounds of the wooden pieces on the wooden board that add dimension and pacing to the tense and silent chess scenes. More musical decisions include the almost-creepy chorus of the girls at the orphanage in the chapel as Beth first learns how to play, and the violently cheerful, bombastic music that almost slips into violence as Beth falls into spirals of alcohol abuse. 
The costumes add a visual element, alongside the elaborate halls, hotel rooms, and bright if not tasteful home in which much of the show is set. Beth stands apart from her male competitors, who wear increasingly dark and formal suits, with her bright red hair and outfits that grow more classy and glamorous as she makes her way up in the world of chess. This costume decision is clearly not made to undermine her intensity or make her more palatable through femininity– she destroys her competitors just as confidently and coldly in a full skirt and pearls as she would in a tie. 
Though the series is not without criticism (the antiquated trope of the black best friend is visible in the character Jolene; some viewers argue that Beth is too mean to those around her to receive the respect she does), I believe it is entirely worth watching, whether or not you would usually watch dramas, consider chess exciting, or be interested in the mechanics of soundtrack or costumes. You'll likely end up being another person caught in the orbit of the cold and talented Beth Harmon, and the intriguingly calculated world of chess the show creates.
The Queen's Gambit is available to stream exclusively on Netflix.