An Expanding Universe: Upcoming Marvel Summary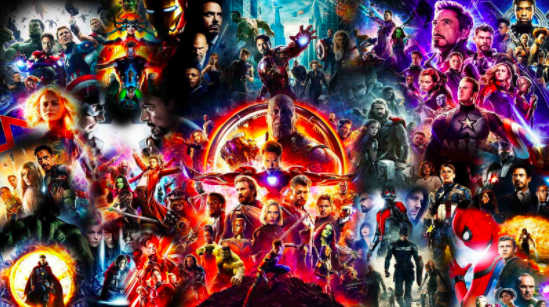 Lily Nobel, Royal Banner Print Co-Editor-in-Chief
February 5, 2021
With the release of the series WandaVision and more than 20 new films and TV series on the way, the now 60 year old Marvel Studios (owned by entertainment giant Disney) isn't going to die off anytime soon. 
Despite its now world-wide popularity, Marvel came from humble beginnings. In 1939, former pulp fiction publisher Martin Goodman drifted away from his roots to found Timely Comics to take advantage of the emerging form of storytelling. This venture would grow into the booming Marvel Comics company that is still alive today.
Characters such as Captain America and Bucky Barnes, who stayed key figures through the comic era and into film, came into conception in this period, as did Vision (one half of the starring pair in a TV show released to Disney Plus on January 15th), the Human Torch (a Fantastic Four movie in which he will be present was recently announced, though the date of release is still unknown), and Black Widow (whose standalone movie is due out May 7th of this year). 
Over the next decade, artists, characters, authors, and signatures were gathered and solidified under the banner of Marvel Comics in 1961. Writers, editors, and artists Jack Kirby and Stan Lee came to the helm of Marvel with the release of The Fantastic Four series, which revolutionized the superhero industry. 
Lee took a bold gamble, writing the four heroes of The Fantastic Four as flawed and sometimes petty, with difficulties in their relationships and lives outside of their superhero work, breaking the mold of flawless heroes like SuperMan (created 1938). This change in character style ushered in the "Golden Age" of comics, which came to define Marvel's brand well into their modern era, which still seeks to create full and complicated heroes, not just mechanisms to defeat evil. 
As the public's taste for media evolved from comics to film, Marvel followed, transforming into primarily a film franchise (though they continue to produce comics as well). They released their first two movies, Iron Man and The Incredible Hulk, in 2008. In 2009, Disney bought Marvel for $4 billion, and Marvel's era of movies began to take off. Between 2010 and 2019, Marvel released 21 blockbusters in the three phases of its "Infinity Saga," building up to Avengers: Infinity War and Avengers: Endgame. These ended the saga with a bang, Infinity War and Endgame coming to rest at the 4th and 1st most profitable films at the box office respectively. 
Now, following a one year hiatus, Marvel has once again begun to produce media. Some of this upcoming content is traditional movies that are planned to be released in theatres, while some of it is limited TV series set to be released on and exclusive to the Disney Plus streaming service. 
On January 15th, the first piece of this new era was released to Disney Plus—WandaVision, a TV series that bills itself as "half 50's sitcom, half Marvel adventure." Next due out is Black Widow, a traditional, standalone superhero film following its titular character, which is set for theatrical release May 7th. Also coming in May is the Disney Plus exclusive series Loki, which will follow the longtime side character and foil to the traditionally noble Thor. 
Making history, a movie adaption of the comic series Shang-Chi and the Legend of the Ten Rings will star Marvel's first Asian-American lead, with an Asian-American screenwriter and film writer as well. 
Perhaps the most eagerly awaited is Spiderman 3, promised for December 17th, 2021, the title of which is yet to be released. Tom Holland will be returning to his role as Spiderman. The announcement of the film relieved Spiderman fans worried the franchise would end after the character was caught in an ownership scuffle between Sony and Disney. 
Also slated for Disney Plus in late 2021 is a TV series based around archer hero Hawkeye, as well as the first screen appearance of Kamala Khan, Marvel's first Muslim-American superhero. 
A spate of sequels are slated for release in 2022: Thor IV, Black Panther II, and Captain Marvel II are set for May 6th, July 8th, and November 11th respectively. Thor IV, titled Thor: Love and Thunder, will allegedly feature Thor's female predecessor. The plot, cast, and title of Black Panther II are so far unannounced, as is to be expected following the death of Chadwick Boseman, who played the film's titular Black Panther. 
Doctor Strange and the Multiverse of Madness is another sequel slated for 2022, this one rumored to be Marvel's first venture into horror and set to arrive in theatres on March 25th. 
Likely, these next two years following Marvel's hiatus will be extraordinarily profitable for Disney. Not only do traditionally released Marvel films dominate box offices whenever they premiere, the streaming service Disney Plus's subscriber base has soared, reaching over 86 million subscribers since its 2019 launch. This number may seem small compared to Netflix's 182.8 million subscribers, but Netflix has had 24 years since it's 1997 launch to amass this base.
Whether theatres will be open for traditional film releases is still unclear. Major theatre chains in Colorado are beginning to reopen in limited capacity throughout January, but this status may change as COVID case numbers fluctuate and vaccination efforts progress.