Nuggets Gain New and Returning Players as Trade Deadline Creates Free Agents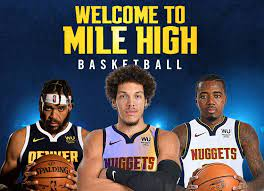 The NBA trade deadline was on March 25, at 3 p.m. ET, and was the final opportunity for a player to sign a contract to another team. Many trades happened at the deadline this year, but rumors started before the day even began. Here are all the major players that were traded on the 25th, and how the Nuggets benefit from their new (and returning) players.
Victor Oladipo
Oladipo was traded from the Indiana Pacers to the Houston Rockets earlier this season as part of the three-team James Harden megadeal. Since the departure of James Harden and the arrival of Oladipo and former Washington Wizard John Wall, they have been one of the worst teams in the league, with their 13-33 record putting them at 14th in the western conference. But, he was traded from the Rockets to the Miami Heat for Kelly Olynyk and Avery Bradley, as well as a 2022 first round pick swap to either Houston or Brooklyn. Oladipo was the "star" of the Rockets alongside John Wall. Kelly Olynyk played backup center and power forward for the Heat last season and did well, as he averaged 10 points and 6 rebounds per game. Guard Avery Bradley has been averaging 8.5 points and 1.6 threes per game so far, and looks to be helpful to Houston as well. After making it to the NBA championship last year, the Heat look to use Victor Oladipo to the best of his ability alongside powerful center Bam Adebayo and star player Jimmy Butler.
Rajon Rondo and Lou Williams
After winning the title last year, the Los Angeles Lakers traded away Dwight Howard, Danny Green, JaVale McGee (who will have a story of his own later on), and Rajon Rondo. All of these players are above average, skilled players who helped the Lakers throughout their playoff run. Rajon Rondo is a skilled point guard who led the league in assists three times and is a 4-time all-star. He was traded to the Atlanta Hawks over the offseason for Dennis Schröder, and has been playing for the Hawks this season, averaging 4 points and 4 assists.
Drafted in 2005, veteran guard Lou Williams of the Los Angeles Clippers is a 3-time sixth man of the year and helped tie the Clippers bench together. He averages 14.4 points over his career and is one of the most respectable veterans in the league in the eyes of some players. The recent trade involved the Clippers acquiring Rajon Rondo, and giving Lou Williams to the Hawks along with two second round draft picks in 2023 and 2027. Rondo is expected to be a good fit with the Clippers, as Clippers star Kawhi Leonard stated, "He's been there before, he's a point guard that's been there before in previous championship runs. He's gonna give us that veteran mentality, the experience, and giving us another ball-handling playmaker". On the other hand, it is not yet known how much playing time Lou Williams will see in Atlanta. Some fans have said that Williams went to Atlanta to finish up his career, and so he could be closer to his favorite wings restaurant.
Gary Trent Jr. and Norman Powell
The Portland Trail Blazers acquired Norman Powell in return for the Toronto Raptors acquiring Gary Trent Jr. and Rodney Hood. Powell is a very skilled outside shooter, and will fit in well with other sharpshooter Damian Lillard. Gary Trent and Rodney Hood will also be decent fits for Toronto.
Daniel Theis and Mo Wagner
The Celtics, Wizards, and Bulls made a deal together that sent center Daniel Theis, forward Troy Brown, and Javonte Green to the Chicago Bulls, Center Mo Wagner and Luke Kornet to the Celtics, and Chandler Hutchinson and Daniel Gafford to the Wizards.
JJ Redick and James Johnson
The New Orleans Pelicans gave sharpshooter JJ Redick and Nico Melli to the Dallas Mavericks, they received power forward James Johnson and Wesley Iwundu in return along with a 2021 second round draft pick.
Evan Fournier and Jeff Teague
The Orlando Magic's guard and shooter Evan Fournier was traded to the Boston Celtics for Boston's Jeff Teauge and two second round picks in 2025 and 2027. This is one of three trades involving the Orlando Magic's top three players.
Nikola Vucevic and Wendell Carter
The Orlando Magic's sole all-star center and franchise player, Nikola Vucevoc and Al-Farouq Aminu were traded to the Chicago Bulls in exchange for Wendell Carter, Otto Porter, and two first round draft picks in 2021 and 2023. This trade also establishes the fact that the Orlando Magic are losing their top players in exchange for younger talent, and plan to rebuild their franchise in following years.
Aaron Gordon and Gary Harris
With the first of two trades involving the Denver Nuggets, the Orlando Magic traded their second best player, amazing dunker and strong forward Aaron Gordon and Gary Clark were traded to the Nuggets for Gary Harris, R.J. Hampton and a 2025 first round pick. Gary Harris and R. J. Hampton are both bench role players, but Aaron Gordon is a full-fledged starter and will be a starter for Denver immediately following the trade. Gordon will be a good fit for the Nuggets, and will be taking Paul Millsap's spot as power forward. In his first game as Nugget against the hawks, he scored 13 points with 1 three and shot 6-9 with a single dunk. Statements from multiple people involved with the Nuggets organization have said that everyone, Gordon included, is very excited to see how he will grow as a player in his 7th year and help the team. The same cannot be said for Orlando Magic fans, who have just lost their top three players. This is only one of two trades involving Denver. The second is:
JaVale McGee and Isiah Hartenstien
The Cleveland Cavaliers traded veteran center JaVale for Denver's Isiah Hartenstien and two second round draft picks in 2023 and 2027. Isaiah Hartenstien is a 7-foot foriegn backup center that has not seen much playing time for Denver this season and last. But JaVale McGee has won three championships with a Steph Curry and Kevin Durant-led Warriors team and last year's title with LeBron James on the Lakers. McGee has plenty of experience, as he is in his 13th year in the league, and is used to playing center alongside greats. This is not the first time McGee has played for the Nuggets though. From 2012-2015, he played on the Nuggets alongside Danilo Galinari, Andre Iguodala, and Kenneth Faried. He helped the team to the 2012 playoffs and gained a lot of experience in the league throughout his time in Denver. It is unknown how much longer McGee's career will be, but fans are happy to see him return to Denver after a partial season in Cleveland.